Molokai Goes Country
Ag fair promotes island unity.
"Ag Unity in Our Community" was the theme of Saturday's country fair at Lanikeha Community Center – and it fell nothing short of congruity.
Over a thousand community members weaved in and out of the first-ever agricultural fair, checking out vendors, participating in activities like the greased pig and corn-eating contests, listening to live music and devouring ono food.
"So many people came out to support the Ag," said Lynn Decoite, one of the fair's organizers. "It was just fabulous."
The fair featured a strong lineup of vendors including Kumu Farms, Island Air, Community Health Center, Blue Planet Foundation, Health and Wellness Center, Young Brothers, Coffees of Hawaii, United States Department of Agriculture (USDA), Molokai Livestock Cooperative, and Seed Savers among many more.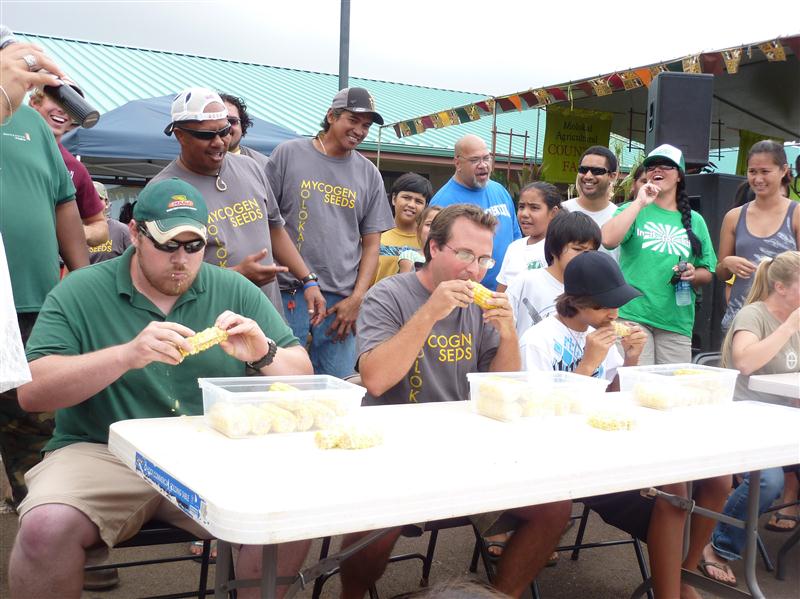 The idea to host a fair arose when Decoite, owner of L&R Farms and president of Molokai Homestead Farmers Alliance, and other farmers began talking about bringing together all aspects of agriculture while getting the community involved. Decoite said it took about six months of planning, but the outcome was well worth it.
"The feedback was very positive and the community seemed very excited" to bring the fair back next year, Decoite added.
The fair was sponsored by the Department of Hawaiian Homelands, County of Maui, Office of Economic Development, USDA Farm Service Agency, Island Air, Young Brothers, and Molokai Homestead Farmers Alliance.
Don't forget to check out the Dispatch's coverage of all things Country:
Best In Show – Molokai's first dog show.
Environmentally Charged – Electric cars highlight the energy exhibition.
GMO No-Go for Some – Some residents are against Monsanto's GMO practices.
Birds Got Game – Molokai celebrates the peaceful side to game fowl.