Molokai Girl Teaches a Spin on Hula
Growing up on Molokai, Angela (Ellertson) Carpenter learned hula as many young girls do. Now, where she lives in Utah, she is taking hula to a whole new level – in her words, a "fitness craze" called Hot Hula.
The fitness class is to hula what Zumba is to Latin dancing. Hot Hula strengthens the muscles through dance movements from the Pacific Islands, with a hip hop flare. One-hour classes boast full body workouts, with hip motions rooted in Tahiti dance and arm movements drawn from hula. Workout soundtracks include Polynesian drumming and reggae beats.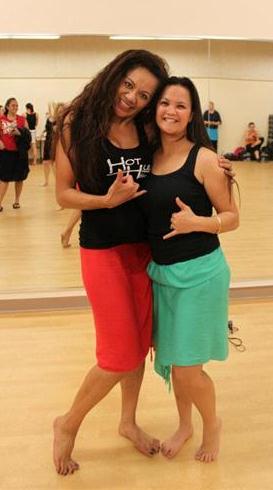 "We are bringing a part of Polynesia to Utah one hour at a time," said Carpenter.
Hot Hula does not teach halau-style dances but uses hula as a basis for fitness, she said.
Raised in Ho`olehua, daughter of Joel and Laura Kahee and granddaughter of Cissy and Hank Ellertson, Carpenter graduated from Molokai High School in 1998 and moved to Utah a year later.
There, she became one of the teachers that first brought Hot Hula to Southern Utah. The fitness program was developed by Anna-Rita Sloss, a California-based fitness instructor with Samoan heritage, who has lived in Samoa, Hawaii and Fiji. Sloss teaches master classes to certify instructors in Hot Hula.
Carpenter said she learned a lot from being raised on Molokai, and appreciates where she came from.
"It's mostly the spirit of love and acceptance I learned that's helping me…" she said. "I'm trying to bring a little bit of Molokai to everyone I meet – it all comes back to the aloha spirit."
To Molokai's youth, Carpenter advises to aim high and don't limit your aspirations.
"Being from a small place does not mean that you can only accomplish small things," she said.