Molokai Girl Earns Doctorate
Community Contributed
By Gladys Brown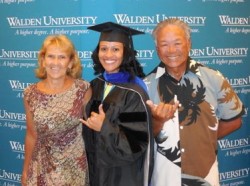 Katina Soares, Kualapu`u School vice principal, received her Doctorate in Education from Walden University in Minnesota on Aug. 11. She accumulated all of her credits towards this prestigious award without leaving Molokai by carefully selecting an accredited university that she could attend remotely. Katina was able to accomplish her educational goals without having to commute to another island or relocate her family.
Katina's educational path should be an inspiration to young people of Molokai that aspire to higher education. She earned her GED in 1994, finishing high school a year early. She then received her Associate of Arts in Liberal Arts and Pre-Education from Maui Community College, Molokai in 1998, and completed her Bachelor of Arts in Psychology in 2000, graduating Magna Cum Laude from Judson College in Alabama.
She went on obtain her Masters of Education in School Counseling from Libery University in Virginia three years later, and finally finished her PhD after four years from Walden University.
"Don't let where you come from determine where you are going," Katina tells young people on Molokai.
After years of sacrificing family outings by staying at home doing homework and
Writing papers, she has finally reached her goal.
Katina's family and community want to say "Congratulations, Dr. Soares!"