Molokai Gets Facility Improvements
While many worry about the state of the economy, Gov. Neil Abercrombie has released more than $300 million in the past few months to jump start projects in the state's airports, schools, roads and other public facilities. Molokai got its fair share of the Capital Improvement Projects (CIP) grants – around $11 million – and some projects are already underway.
"These facilities will benefit residents' health and lifestyle," said Donalyn Dela Cruz, Abercrombie's press secretary. "The New Day plan is not Oahu-centric. Gov. Abercrombie feels strongly about doing the best job he can for all residents of the state, including Molokai."
Airport
Necessary routine construction at the Ho`olehua Airport has been in the works for several years, according to Department of Transportation (DOT) spokesman Dan Meisenzahl.
Beginning in August of this year, two projects will begin at the airport – airstrip maintenance and emergency facility repair. The airport will receive pavement and taxiway upgrades, as well as a drainage system. The $5 million project will not affect air traffic, according to Meisenzahl, and the construction will take place at night. Meisenzahl said it is expected to be complete by summer 2012.
The aircraft rescue fire fighter (ARFF) station at the airport has also been given state funding – another $5 million – to improve emergency facilities. The project is currently 20 percent complete, expected to finish by the end of this year, according to Meisenzahl.
"This is preemptive stuff," he said. "If we don't do this now, in two or three years it might be an issue."
He added they are also looking into a terminal renovation project sometime in 2013 or 2014, to bring in concessions, landscaping and possibly add air conditioning.
"It looks like a really rural airport," he said. "We want to make it a nicer impression for visitors and residents alike."
Softball at MHS
Coming off an impressive season, the Molokai High School (MHS) girls' softball team could get even better in a few years. More than half a million dollars was allocated to improve the softball field on the high school's campus, which is now in the design phase.
"We want to improve it to the point where games can be played up here," said school Principal Stan Hao.
Dugouts, changing facilitates, fencing and handicapped-accessibility are all features that will be incorporated into the new field.
Duane Kashiwai, Department of Education public works administrator, said the money was allocated as a part of Title 9 – gender equality. He added the funding came from state bonds, which are not a part of general funds paid by taxes. Not all CIP funding comes from state bonds.
"I feel fortunate considering what's happening in the state regarding cutbacks, at least these projects are moving forward," Hao said.
This past season, the softball team qualified for the state tournament for the first time in 10 years, according to coach Coco Augustiro.
"In light of the success that we've had, this will only add to the softball program," Hao added.
Health Center
Although some funding is currently being withheld from the Molokai Community Health Center (MCHC) for their new facility's improvements, the state allocated another $500,000 in Grant-in-Aid (GIA) funding as a capital improvement project. MCHC Executive Director Desiree Puhi said the funding goes exclusively toward building renovations.
"Most of that money will go toward parking lot expansion," she said. "The remainder goes toward remodeling five buildings and the deck.
"It's great to know that the state supports this project, and that the community is behind it."
The health center's GIA funding, like the high school, also comes from state bonds. Puhi said the money is expected to be released July 1, at the beginning of the next fiscal year.
Officials at the Department of Health could not be reached for comment.
Fire Station
Although not a CIP project, and funded by the county and not the state, Kaunakakai's new fire station is also near the end of its construction. Fire Services Officer Lee Mainaga said they are expecting to move the men into the new station this summer – "fingers crossed."
The new station, which cost around $12 million and is located above the UH Maui College, Molokai campus, will have many advantages. For one thing, Mainaga said, the current station, near Mitchell Pauole Center, is located in a flood plain; anytime there was a tsunami warning, the station would have to be evacuated. He also said the firefighters are "kind of squished," and will have more room at the new station.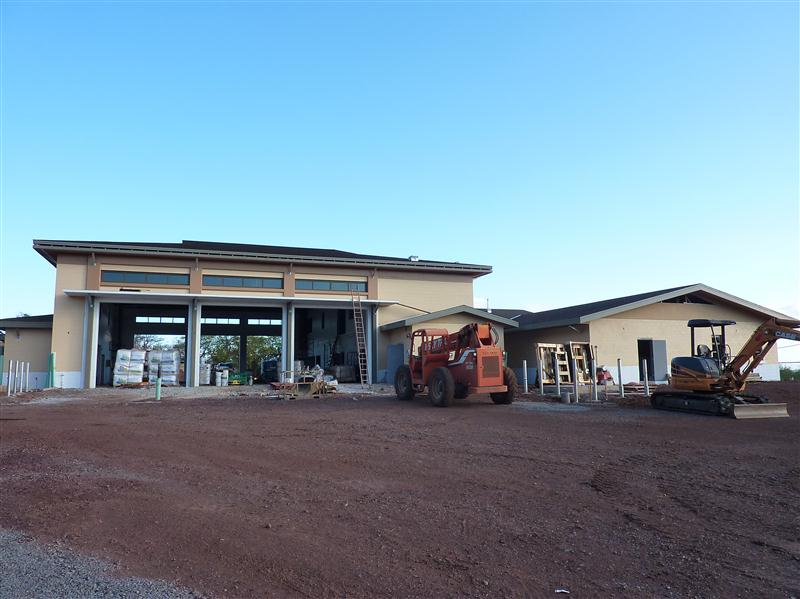 work hard, they put their lives on the line every day; they deserve this new space," Mainaga said.