Molokai Farmer with a Health Career Future
Community Contributed
Rosie F. Davis, AHEC
Jordan Boswell, a senior at Molokai High School, comes from a third generation homestead farming family from Ho`olehua. His parents are Ui and Aaron Boswell, of Ho`olehua.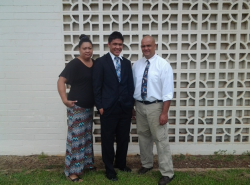 As a student in Ms. Harada's senior class, he chose a career where money was the motivating factor. He decided on becoming an orthopedic surgeon, and he had begun his journey! As Jordan began his research on the education required and the cost for that education, he knew this was no longer about the money, rather it was about serving others.
"As a child growing up I always gave service, through my scouting activities and through church service projects," he reflected.
Area Health Education Center (AHEC) was part of the Future Fest event at Molokai High School. AHEC requested Dr. George Hui, University of Hawaii at Manoa, to present the Step-Up program to students interested in health careers.
Jordan and a couple other students applied for this program. Jordan was accepted for the eight-week program, where he had to reside on Oahu for that period of time. The program was located at University of Hawaii, John A. Burns Medical School. Jordan's project, was how a gene TREM-1 plays a role in our immune system during a West Nile virus infection. The program prepared Jordan to work in a lab doing research, gathering medical information, and working with others in the field. Following the program, Jordan participated in the Step-Up nationals program that was held in Washington DC this past August. There, he, along with the other students who participated in the eight-week internship, presented their findings.
"I would like to use AHEC services as long as possible as it is one of the many stepping stones I need to becoming a doctor," said Jordan. "I need to focus on gaining experience through internships and other resources in health careers to establish building my resume for the future."
Over the last eight years, Huli Au Ola, Maui County AHEC, has partnered with Molokai High School's Health Occupation Science Academy (HOSA) program.   Teacher John Van Ornum volunteers his time to assist the students in HOSA.
Student Activity Coordinator Lisa Takata provided AHEC the opportunity to have a variety of medical professionals present to students interested in health careers.
AHEC provides some funding for Julia DeGeorge to provide SAT and ACT preparation for students.
Jordan is part of the (HOSA) club, along with other students interested in health careers.
In future articles, students will share their stories of a possible health career. Molokai has great students, we can grow our own!