Molokai Educator Honored for Cultural Conservation
The Nature Conservancy News Release

Longtime cultural and environmental educator Penny Martin received The Nature Conservancy (TNC)'s Kako`o `Aina Award this past weekend at a community celebration at the Kilohana Community Center.
She currently serves on TNC Molokai Advisory Council, where she is a key advisor on conservation issues that affect the community. "Penny does this with common sense and respect for the beliefs and opinions of all involved. She is trusted and respected by everyone," said Ed Misaki, the director of TNC Molokai programs.
The award honors individuals who have provided significant and long-standing support for conservation in Hawaii. Kako`o `Aina literally means, "one who supports the land."
"Few people have served as ambassadors for Hawaiian culture and conservation as Penny Martin has on the island of Molokai," said Suzanne Case, TNC Hawaii executive director. "She has helped the people of Molokai work through difficult issues related to the use and conservation of the island's natural resources and is truly a community treasure."
Martin was born and raised on Molokai and attended Kamehameha Schools. In 1976, she was one of two female crewmembers aboard Hokule`a's epic first expedition from Tahiti – an experience that taught her an important lesson.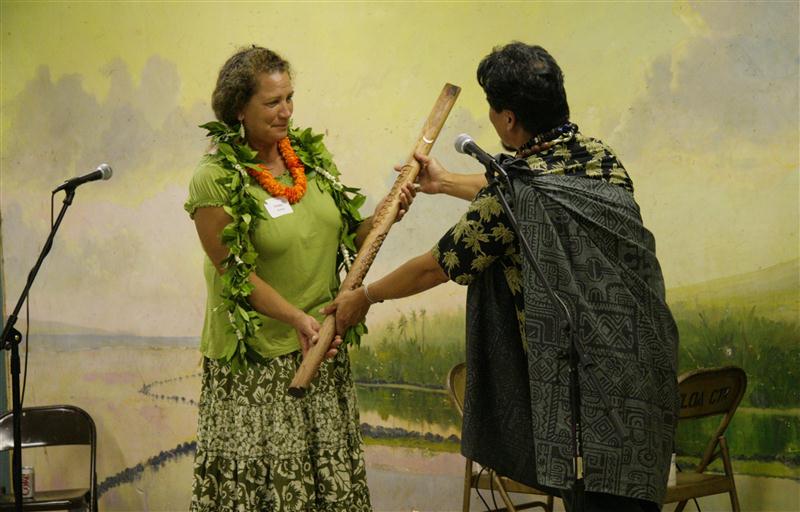 "Living on a canoe is like living on an island," she said. "You have to learn to live with limited resources and work together to manage them."
In 1991, Martin began working as a cultural and environmental educator for the Moanalua Gardens Foundation. Four years later, when TNC initiated its monthly Molokai hike program, she served as one of three original docents, leading educational hikes into the Conservancy's Kamakou Preserve.
That same year, she became a community member of the Molokai Hunter's Working Group, helping to bridge deep-seated differences between conservation leaders and local hunters.
Martin is a co-founder of TNC's annual Molokai Earth Day celebration, a popular community, family and educational event begun in 1995. She continues to work as a cultural and environmental educator – now for Papahana Kualoa, Lelekamanu Program. Her job takes her into the classroom of every public school on Molokai, where she teaches students about the connection between Hawaiian culture and conservation.
"Anyone who knows Penny knows that she is a great believer in Hawaiian values, and in particular the value of aloha `aina, or love for the land," Misaki said. "Here on Molokai, Penny lives the culture of aloha `aina."
Dr. Sam `Ohu Gon, TNC's senior scientist and cultural advisor, presented Martin with a kako`o, or staff carved from `ohi`a wood.
"In Hawaiian, one who provides unfailing support is called kako`o, which is derived from the word ko`o – a brace or supporting structure that denotes strength," he said.
TNC's Kako`o `Aina or "Supporter of the Land" award, was established in 2005. Previous winners include Jan TenBruggencate, a 30-year science and environmental reporter with the Honolulu Advertiser; wildlife biologist and photographer Jack Jeffry; Maui biologist Art Medeiros; and the east Oahu community group Malama Maunalua.