Molokai Duo Strums on Oahu
Community Contributed
By Lucy Lamkin
Molokai ukulele maker Dan Ryerson and Ukes for Kids' 13-year-old student Ace Villanueva participated in the eighth Annual Ukulele Guild of Hawaii Exhibition & Conference last month. On Nov. 21-22, the pair traveled to Oahu for the conference held at the Sheraton Hotel in Waikiki.
The event featured 48 instruments by 32 master builders. Builders from all over the world, including Hawaii, the mainland, New Zealand and Japan, gathered for two days to learn more about their craft. Ryerson put on his exhibit for the seventh year in a row. The event included instrument and craftsmanship displays, a program of workshops in instrument construction and playing techniques.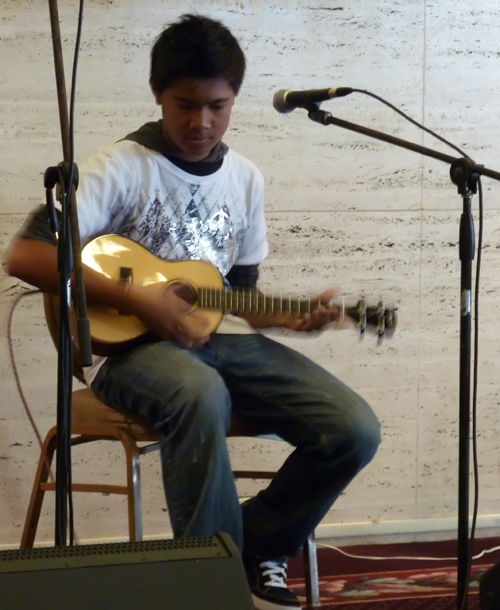 Ace Villanueva of Molokai performed in the lineup of well known players at the Conference Open Mic and was praised by world reknowned strummers Kalei Gamiao and Kimo Hussey. Gamiao, Hussey and several other recording artists inclduding Brittni Paiva, Daniel Nakashima and Chris Salvador played at the Saturday night banquet.
Dan Ryerson's Manae label has created custom ukuleles and guitars for clients in Hawaii, the mainland and Japan. Ryerson initiated the Ukes For Kids program on Molokai that has supplied over 385 ukuleles to students like Villanueva across the island.
Molokai's Ukes for Kids Program has received significant support from the The Ukulele Guild of Hawaii which is devoted to perpetuating Hawai'i's culture and heritage. Large contributions have come from as far away as Santa Cruz, California where guild member and instrument maker Dave Tachera produced a concert benefitting the Molokai program. Local band Na Ohana Hoaloha has also consistently raised funds in support of the Ukes for Kids Program on Molokai.
A closer view of the Exhibition is available at: http://www.ukuleleguild.org/