Molokai Drive Inn Closes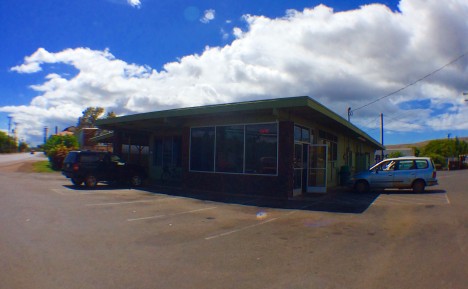 A landmark for more than 50 years, local fast food restaurant Molokai Drive Inn is closing on Wednesday, June 17. Following a legal battle between landowners Friel Enterprises and operators Molokai Services Inc. (MSI) over the amount of rent being charged for the property, the conflict was never resolved and the current lease expires on June 30. In an announcement of the closure on Facebook, MSI said it hopes to open again in a new location.
"It's going to be sad," said restaurant manager and 15-year employee of the Drive Inn, Annie Cariaga. "We will miss the kupuna who come here every day. We appreciate the community for feeling the same way we feel when we heard about this."
Cariaga said she got the news of the closure a few weeks ago. Currently the restaurant employs seven full time workers and five part time, though she said several additional employees have already left.
"There are employees that worked here for 20, 15, 10 years. We lasted a long time in this place, even though it gets really hot in here!" she laughed. "We still show up everyday… we're just thankful for the community for all their support."
Legal Disputes
In March, MSI filed a lawsuit against Friel Enterprises, claiming the landlords were collecting more than fair market value rent.
Molokai Drive Inn opened for business in 1964 in the center of town on land owned by Molokai Ranch. In 1982, Pearl Hodgins, named as the first defendant in the case, and her mother Pearl Friel Petro, formed Friel Enterprises and purchased the property from Molokai Ranch in 1983.
In the lawsuit, Bruce Sherman, attorney for plaintiff MSI, estimated MSI was overcharged about $1.5 million over 20 years.
Until last year, individuals served as officers of both organizations, in what the lawsuit called a fraudulent scheme to "basically negotiate leases with themselves," said Sherman. Three out of five directors of MSI were directors of Friel Enterprises at the same time.
Under Molokai Ranch, MSI paid $362.62 per quarter in rent. By June 1992, the suit claims rent had increased to more than $950 per month, or $2,850 per quarter — an increase that was not in keeping with the existing contract.
In 1994, the lease was renegotiated, and terms included rent payment of $2500 per month, as well as five percent of sales. The lawsuit claims no other commercial tenants on Molokai were required to pay a percentage of gross revenues. In 2004, rent was raised to $3,000 with six percent of sales, which the lawsuit states was approximately $6,000 monthly.
The suit claims that in 2013, the defendant found comparable rentals in the area, with most being leased at about $800 per month, and on average, under $1230 monthly.
"The rent that they've been charged over the last year averaged $9,000 per month," said Sherman of MSI.
However, defense attorney Jonathan Steiner, McCorriston Miller Mukai MacKinnon law firm, said his clients, Friel Enterprises, tried to negotiate the rent and "never got a commercially realistic offer [from MSI]."
"Instead [of negotiating], Molokai Services, in our view, chose to litigate and assert some nasty allegations against my clients…." he said.
Steiner stated there was full disclosure about individuals being on the board of both Friel Enterprises and MSI, and no concerns were ever raised until recently. In 2014, board members holding positions with both entities resigned.
"In our view, they [Friel Enterprises] always treated Molokai Services fairly. In our view, what happened was disclosed. Most importantly, for decades, they [MIS] accepted the benefits of the arrangement and knew about what was going on… If they had raised a complaint early on, it could have… been addressed."
The second circuit judge agreed. In April, the case was dismissed on the grounds that the statue of limitations — the time lapsed since the alleged offenses — had lapsed. Steiner said many of the allegations concerned things that took place more than 10 years ago, and some involved people who are since deceased, including Petro.
"It's really sad for my clients because it's their mother and their family that built up this restaurant," said Steiner of the lawsuit that names Hodgins and three of her siblings as defendants. "This dispute has gotten in the way of continuing to operate the restaurant."
He said Friel Enterprises continued to attempt negotiations on the renewal of a lease to allow the business to continue but could not reach a settlement with MSI. He said the accusations of fraud hurt his clients.
Looking to the Future
Steiner said at this time, the family has no plans for the Drive Inn property. With the lease ending at the end of this month, and the business closing on Wednesday, Cariaga said the remainder of the month will be spent cleaning and vacating the space.
"The Friel family has been in the Molokai community for a long time and they'd love to provide a business that would benefit the Molokai community, whether it's a similar business or something else that's appropriate," Steiner said.
In the meantime, Molokai Drive Inn continues to look for a new space of its own.
"There's a feeling that Molokai Drive Inn has been part of the scene on Molokai for more than 50 years – other restaurants have come and gone but Drive Inn has managed to survive. It's an integral part of Molokai," Sherman said. "They [MSI] want to not only continue to provide employment as well as good food and continuity… If anyone has ideas for a new spot, please contact us."
A Molokai resident of 23 years called the Drive Inn "a part of our lifestyle here."
"Places to eat are very limited and the Drive Inn is open seven days a week, early mornings till late night, the food is very consistent, the prices are great," she said. "It's a good go-to when you are on the go, have no time to prepare your own meal or simply want a quick fix of a mushroom burger, fried saimin, nachos, whatever your liking may be."
Another Drive Inn supporter said it all comes down to the price of rent.
"At some point, these businesses end up staying open only to pay for their location, which is the total opposite of what business is supposed to be about," he wrote on the Molokai Dispatch Facebook page. "I hope that they can find another place soon, because losing 10 to 20 more jobs is the last thing Molokai needs."
Cariaga said she will remember best the laughter and jokes of workers, calling them "goofies," and the regulars, who came "every morning for breakfast for 20 years."
"It's sad for employees because it's hard to find a job here," she said. "They said they're going to cry on the last day of work. I still can't get over it."