Molokai Dispatch Awards 2nd Scholarship
Molokai Dispatch News Release
In keeping with The Molokai Dispatch's goal of community empowerment, the island's newspaper recently awarded the 2nd annual Excellence in Writing and Media Scholarship. The $400 scholarship was given to recipient Kathy "Aunty Kapua" Templeton, for her inspired contributions to the Molokai Dispatch over the past two years. The scholarship, awarded for educational purposes, is meant to recognize recipients' excellence in media and writing.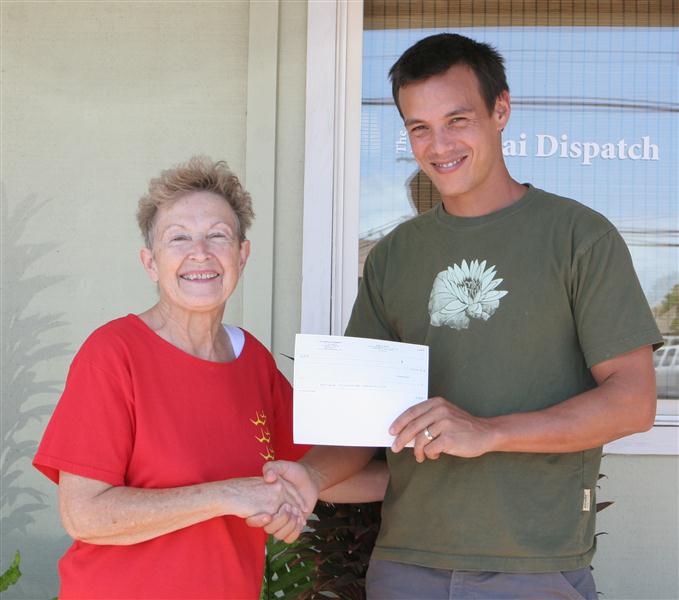 Templeton began volunteering once a week at the Dispatch in 2008. She now works as sales assistant and writes a colorful bi-weekly column called Aunty's Corner.
Templeton said she is using the money for three courses in Hawaiian culture and language at Maui Community College, Molokai. She begins classes in August.
"I'm so excited," she said. "It means I can study the language like I've always wanted to."
Templeton, originally from Washington State, first came to Hawaii in 1959 to attend University of Hawaii. Her oldest daughter was born in Hawaii, and she's been coming back and forth ever since. She moved to Maui five years ago, and made Molokai her permanent home in 2008. She said she has studied hula for the past 40 years both on the Mainland and in Hawaii.
"We hope that scholarship will further enrich her contributions to the community through her column," said Molokai Dispatch owner Todd Yamashita.
Last year's scholarship was awarded to Ka`ohele Ritte-Camara, who wrote a Hawaiian language column for The Molokai Dispatch.
Call The Molokai Dispatch at 552-2781 or email editor@themolokaidispatch.com to see how you can become involved in the island's newspaper.