Molokai Cuts it Close on Senior Night
The Farmers faced off with the Lanai Pine Lads this weekend at the Barn, their last home games of the season, and celebrated Senior Night. Molokai won both games, now 4-0 in Maui Interscholastic League (MIL) season, including an exciting overtime win on Friday night.
David Rapanot was a thief in the first quarter, taking the ball with ease from Lanai and dribbling it down the court untouched for layup after layup.
The Farmers put down 28 points in the net opposed to Lanai's six points in the first half. Lanai returned a more composed team in the second half by cashing in on multiple fouls made by the Farmers.
The Farmers kept a comfortable lead of 37-24, but that quickly dwindled when Lanai scored 10 unanswered points.
Lanai had the lead 42-44 with a little more than a minute left in the game, causing Molokai fans to get off their seats as the clock ticked.
Hauoli Falealiu, who was not seen much earlier in the game, threw the ball up for a 3-pointer with three seconds left on the clock. His defender tipped the ball slightly, but just enough for the ball to go through the net.
Molokai held their ground and dominated in overtime. The final score was 54-49.
"I guess we showed pe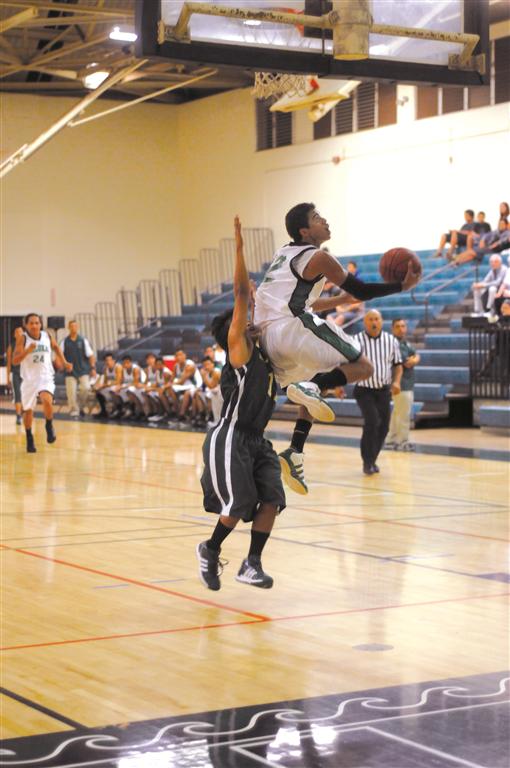 rseverance and never gave up," said coach Lester Delos Reyes said.
"I told them in the fourth quarter to keep their heads up, attack the corners and put up a shot."
After the game, Falealiu was overwhelmed with joy after knowing he led his team to a win.
"I just thought we needed three points. I told David [Rapanot] to pass me the ball and I'd shoot it," Falealiu said.
Shooting three-pointers can be easy in practice, but can be a different matter when the game is on the line.
"Yeah, I was nervous," he said.
Saturday's game had less tension, but the Farmers did not let their guard down as they sent the Pine Lads home with another loss.
Seniors Kamakana Duvauchelle and Ryan Rapanot scored 24 and 11 points, respectively, to help the Farmers win 47-27.
"We came out a lot harder today," Duvauchelle said.
Along with senior Nainoa Langer, these were Duvauchelle and Ryan Rapanot's last basketball games played at the Barn.
"We'll miss playing here in front of family and friends and bonding as a team. We'll definitely remember last night's game," they said.