Molokai Charity Walk Raises Record Total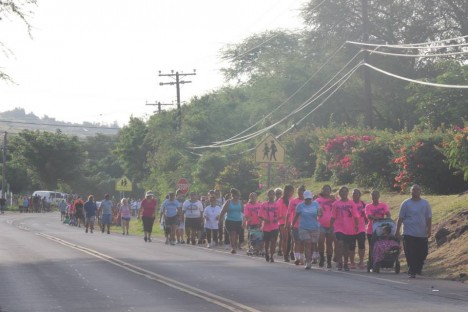 Raising a grand total of $66,829.62, the Molokai Charity Walk held last Saturday by the Maui Hotel & Lodging Association (MHLA) was a record-breaking success. The Charity Walk, held annually around the state, raises money for local nonprofits and charities.
More than 200 people from over a dozen organizations participated in this year's walk from Hotel Molokai to Paddlers Inn and back, a length of about three miles. The turnout, though slightly smaller than last year's, didn't hinder the amount of money raised. This year's walked earned over $4,000 more than last year, according to Laura Echiverri, administrative assistant at MHLA and head organizer of the event.
"We thought $62,000 [in 2013] was going to be hard to beat… So we couldn't believe it when we hit over $66,000," said Echiverri.
Echiverri explained that individuals can choose to raise money for the island as a whole or for a specific organization. Funds raised by local nonprofits benefit their organization exclusively, while money garnered by for-profit businesses goes into a general fund to be allocated to nonprofits all over Maui County.
This year's event also doubled the course walked in previous years. Last year, the walk went one way from Paddlers to Hotel Molokai, causing some confusion about transportation back into town and to vehicles.
Echiverri noted that participation was not affected by the decision to increase the length, and that participants did not need to actually walk in the event to help raise money.
Of all the organizations and groups that participated, Molokai High School Athletics Department brought in the most money, with an estimated $14,000.
"I am so proud," said Echiverri. "The Molokai Community really stepped up to the challenge."
Both Lanai and Molokai held their charity walks this past Saturday, while Maui will host theirs next Saturday, May 10. The grand total raised for Maui County will be announced in August.