Molokai Celebrates Library Week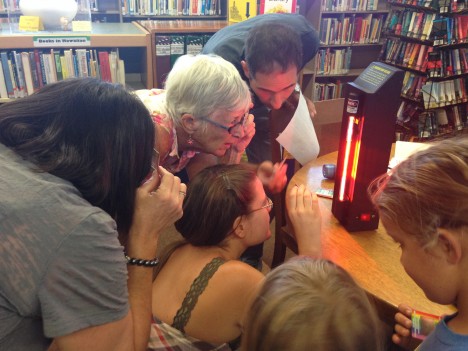 Last week, communities across the country celebrated the impact local libraries have on their neighborhoods during National Library Week. On Molokai, the Alu Like Native Hawaiian Library and the Molokai Public Library both participated in observances by offering special programs.
At Kaunakakai's public library, the community was invited on an educational journey through space that perpetuated the values of the local library.
"The values libraries instill are lifelong learning," said Sri TenCate, Molokai Public Library Branch Manager. "We service people from babies to seniors and are so happy to be able to give them the resources that we have, so they may continue to learn."
More than 35 astronomy-loving residents gathered at Molokai Public Library last Thursday for the "Light and Spectra" program to learn how astronomers use light to learn about the universe. Dr. Roy Gal, a professor at the University of Hawaii Institute for Astronomy, led the presentation and shared breaking astronomical news. Astronomers, he said, have discovered the first Earth-sized exoplanet — or planet that orbits a star — outside our solar system, whose size and surface temperature are similar to that on Earth.
"When I was the age of the kids sitting on this floor, the only planets we knew were around our own sun," Gal said. "By the time these kids grow up, we will have telescopes in space that can take spectra of this planet and…decide there's green or blue that might indicate trees and water. That is going to happen in their lifetime."
According to Gal, astronomers use light given off by planets, stars and objects in our environment to understand their composition and temperature. A spectrum measures the wavelengths, frequency and temperature of an object using light that is absorbed or reflected from the object. Participants got in on the action and took spectra of colored neon light from light bulbs in an interactive lab.
TenCate said she hopes attendees learned something new at the science program. She said the intent of National Library Week is to highlight the role of libraries, librarians, and the public library in promoting literacy and providing access to materials and resources.
"The programs that we host every year during National Library Week are very educational and informative for people on the island," TenCate said. "People can come here and learn so much for free."
Along with the Molokai Public Library, the Alu Like Native Hawaiian Library, located behind the Lanikeha Community Center in Ho`olehua, also celebrated National Library Week. They offered workshops on the topics of Hawaiian Historical Culture and Economics, Money Management and Preparing for our Future.
The Native Hawaiian Library provides informational services to Native Hawaiians and others interested in Hawaiian history and culture, as well as a collection of children's books. Materials available include references, reading material, maps, DVDs, and Native Hawaiian research collection. There are also two digital collections available: Ulukau, which contains material that was written in Hawaiian and includes obtainable translations; and Hawaii Digital Library (HDL), which provides information about Hawaii.
National Library Week is celebrated each April by the American Library Association and libraries nationwide. Hawaii's public libraries offered a variety of free educational STEM, or science, technology, engineering, and math, related programs throughout the month of April.