Molokai Boys' Volleyball Downed
Down during the fourth set at the Barn last Friday evening, the Farmers saw a short revival against the defending Maui Interscholastic League (MIL) champs, Seabury Hall, but it was not enough.
The Farmers fell to the Spartans, 23-25, 20-25, 28-26, 22-25, on Friday evening, and saw the same loss of 1-3 on Saturday afternoon, with a set round-up of 13-25, 22-25, 25-23, 23-25.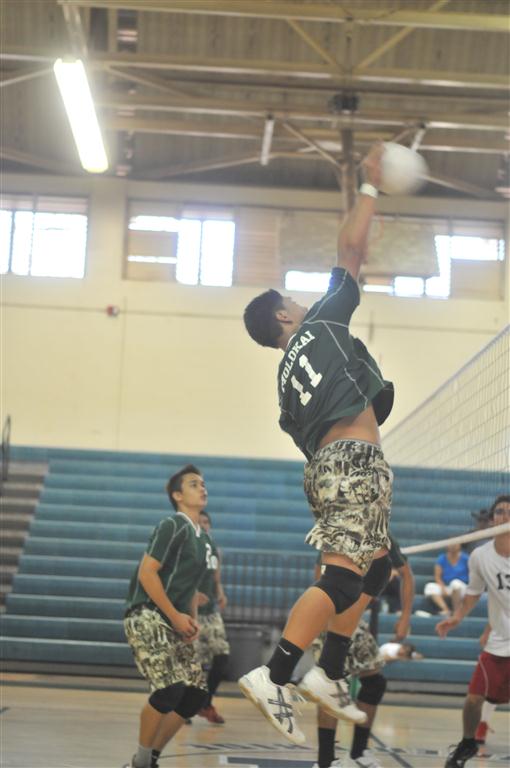 Friday's game had strong blocks and kills up front from David Gomes, who had seven kills. Claude Kapuni had seven kills and three blocks. Dahvin Spencer-Basa also got the momentum going toward the end of the third set with one ace and four kills.
"I think team-wise it's the best game we played season long," said head coach Bill Dudoit of Friday night's game.
Molokai seemed to be gaining the upper-hand with 20-19 when a Seabury Hall player went down with a possible neck injury, sending the game in a 10-minute delay. Seabury Hall ended up with 25-22.
"We played more as a team today, everybody who came off the bench did really well, even the starters," Spencer-Basa said.
Saturday's game saw nine kills each from David and Dayson Gomes, as well as seven kills from Paka Adolpho, and Roycee Calairo had six kills. Claude Kapuni helped the Farmers with four blocks.
The Farmers (2-4) will play a rescheduled match against Maui High this weekend for their last home games of the season.