Molokai Boys Topple St. Anthony
Maybe it was a size advantage, or maybe it was a home-court advantage; either way, the boys' basketball team didn't give St. Anthony's Trojans a chance this weekend.
The two teams went head-to-head on Friday night and Saturday afternoon at the Barn.
The Farmers came out strong Friday evening, showing they wanted to win more than the Trojans.
Farmers Kamakana Duvauchelle and Ryan Rapanot towered over their opponents, defending Molokai with multiple steals and blocks.
The Trojan's passing ability surpassed the Farmers', who compensated with superb stealing and blocking.
All the action and acrobatic passing skills resulted in a point after point and eventually kicked in the "mercy rule" on the clock. The final score was 51-17.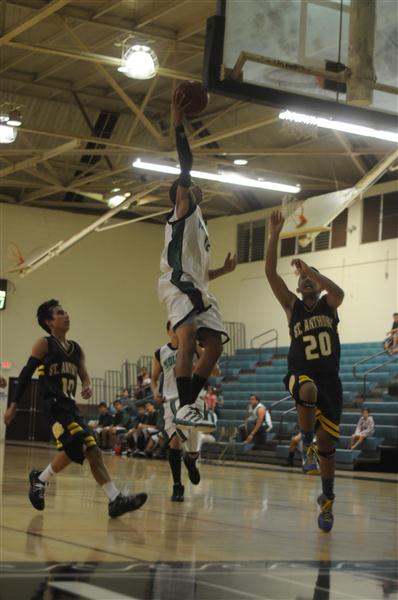 Duvauchelle ended the game with 14 points under his belt, while Ryan Rapanot led the team with 24 points in the basket.
Rapanot was happy with how his team played.
"I feel we did good," Rapanot said. "Everybody was playing their role. Everybody knew their assignment and played hard.
"I feel we executed what we wanted to do," said head coach Lester Delos Reyes. "We played real tough. And not to take anything away from St. Anthony's, because they really made us work hard on defense. They hold onto the ball well." It was more of the same from the Farmers on Saturday's game.
"I told them to hustle in our pre-game talk and to not let their guard down. And they didn't," Delos Reyes said.
Molokai played well defensively, and toward the end of the game, the second string Farmers were sent in to take over the game.
Freshman David Rapanot was able to put down nine points, including two from the arc. His brother Ryan had eight points and Kamakana Duvauchelle had 15. The final score was another trashing 54-22.
"We had a slow start. But we moved on and played together," said Duvauchelle. "We played our game and the second string did pretty well."
The Farmers are now 2-0 in the Maui Interscholastic League (MIL) and compete against Lanai next weekend, Jan. 21-22, at the Barn.