Molokai Boxer Named Regional Junior Olympic Champion
Molokai Southside Boxing News Release
The 2013 Hawaii State Regional Junior Olympic Boxing Championships were March 16 and 17 at Palolo Gym. On the first day of the competition, Molokai Southside Boxing Club's 13 year-old Kekaiomalu Adachi weighed in at 110 pounds and fought hard in three one-minute rounds, coming up short in points against 14-year-old Matthew Perez of BoxFit808. Later, 16-year-old Hunter Manaba weighed in at 141 pounds, defeating 15 year-old Charles Naone of Pearlside Boxing Club in a non-tournament but sanctioned match. Hunter advanced to the finals and will represent Team Hawaii in the upcoming National Junior Olympics.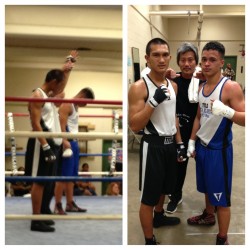 On day two, 15-year-old Michaiah Soares weighed in at 154 pounds and fought three tough two-minute rounds against Waipahu's seasoned15-year-old Kekoa Balasi; with only a few seconds left in round three, the contest was stopped. Michaiah earned a Silver Medal, becoming an alternate for Team Hawaii. Kekaiomalu weighed in at 114 pounds, but came in just shy of winning the bout against Treston Domingo of BoxFit808.
Honolulu Mayor Kirk Caldwell presented medals and trophies to winners in all divisions. Champions earning a spot on Team Hawaii are 101-pound Kawelo Alcos (Kawano BC); 110-pound Kristopher Alcos (Unattached); 119-pound Logan Yoon (Kawano BC); 125-pound Dustin Somera (Waianae BC); 132-pound Cole Dante (Kawano BC); 138-pound Sergio Mamone (HIBC); 145-pound Hunter Manaba (Molokai Southside BC); and 154-pound Kekoa Balasi (Waipahu BC). Team Hawaii will be traveling to Mobile, Ala., June 25 to 29 to represent the 50th state at the 2013 National Junior Olympics Boxing Championships.
In order to qualify for the regional competition, an athlete must be 15 or 16 years old in the year 2013, have five boxing matches in their passbooks, be a U.S. citizen and be registered with USA Boxing. One winner per eligible weight class formed Team Hawaii. Boxers 8 to 14 years old could compete for the State Tournament Titles.
While Team Hawaii prepares for the national championship, a boxing event will be held here on Molokai. On Saturday, June 1, Molokai Southside Boxing Club will be hosting a sanctioned boxing event starting at 6 p.m. at the Molokai High School Gym.