Molokai Artist Wins Award at Hawaii Craftsmen Exhibit
Hawaii Craftsmen News Release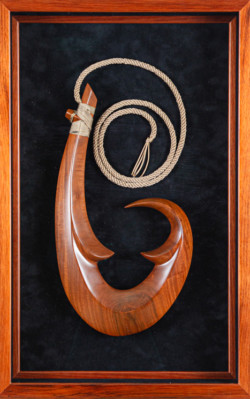 Congratulations to Molokai award winner Jason Liu for winning the Cedar Street Galleries Award, which is sponsored by Michael Schnack.
Jason entered his piece, "Post Stroke Makau Aftermath," which is a beautifully carved Koa fishhook, in the 2023 Hawaii Craftsmen Annual Statewide Exhibit.
"I was born and raised on Oahu, then moved to Molokai in 1994. In 2019 I had two strokes. Creating this art now is my own therapy and has been my path back to life. Now I see that the strokes helped me start my life again. My vision with entering this competition is to reach more people with my art and to inspire others to expose their own art and talents," said Liu.
Held annually since 1967, the Hawaii Craftsmen Annual Statewide Exhibition features the finest traditional and contemporary craft from across the state of Hawaii. The Annual Statewide Exhibition for 2023 will run from Sept. 30 until Oct. 28.