Molokai 2nd Grader Wins Art and Essay Contest
Kualapu`u School News Release
Kualapu`u Public Conversion Charter School second grader Keolamau Lawelawe won the Hawaii Agriculture Foundation's (HAF) Localicious Hawaii Keiki Art and Essay Contest for the K-3 grade category.  The contest theme was "My Favorite Local Dish and Where it Comes From."  Keolamau won an iPad Mini, and his classmates, parents and teacher, Kumu Loke Han, were treated to a special lunch and visit by Chef Alan Wong of Alan Wong's restaurant.  The gourmet lunch featured local ingredients and included ahi poke with sea asparagus, yellow and red tomatoes with li hing dressing, and a light "stew" of steamed kalua pork, shrimp, clams, spinach, in a buttered broth.  On the last day of school, these students were treated to a once-in-a-lifetime party they will never forget.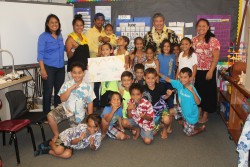 "The Hawaii Agricultural Foundation, in cooperation with Hawaii Gas, was excited to sponsor a contest where students would share their knowledge about local produce and products through art and essay," said Denise Yamaguchi, Executive Director of HAF.  "We were also honored that Chef Alan Wong was able to meet Keolamau and his family, and also share his knowledge of food and cooking with the students at Kualapu`u Public Conversion Charter School through a special lunch."
The Localicious Hawaii Keiki Art and Essay Contest was made possible through Localicious Hawaii, and a partnership with Hawaii Gas.
For more information, contact Lydia Trinidad, Principal, at (808) 567-6900 or lydia_trinidad@notes.k12.hi.us.
Kualapu`u School serves 330 students in Pre-K through sixth grade, of which 92 percent are of Hawaiian ancestry and 86 percent are low income. As Molokai's only accredited elementary school, only charter school, and only elementary Hawaiian language immersion school, Kualapu`u is an invaluable educational resource for the island's early learners.
HAF's mission is to support and sustain Hawaii's agricultural industry by addressing critical needs and services of farmers and the agricultural industry in Hawaii, and by better connecting the farmers with the community and vice-versa. This involves educational and outreach programs in the community, as well as direct marketing, technical, educational and in-the-field support for farmers.  For more information, please go to hawaiiagfoundation.org.