Moloka'i 'Opio Ranked Fourth in State Scholastic Chess Tournament
Community Contributed
By Ted Takamiya
Unbeknownst to Moloka'i, a series of epic battles took place on Saturday, March 13th on the island of O'ahu. It was a battle of strong-willed individuals, who displayed their skills in developing strategy, managing their time, and, at times, overcoming great odds. These battles were fought across chess boards and involved some of the State's finest chess players in grades kindergarten through 12th grade at the 2010 State Scholastic Chess Tournament.
Seven students from the Moloka'i Middle School participated in the tournament and competed against the top chess players from several O'ahu public schools, private schools, and chess clubs. Some of their competitors have already competed at the national level and are veterans of tournaments. Each participant played five matches with each match potentially lasting up to one and one-half hour. The day-long tournament, held at Washington Middle School, started at 9:45 a.m. and ended at 6:30 p.m., which tested the mental toughness and perseverance of each player.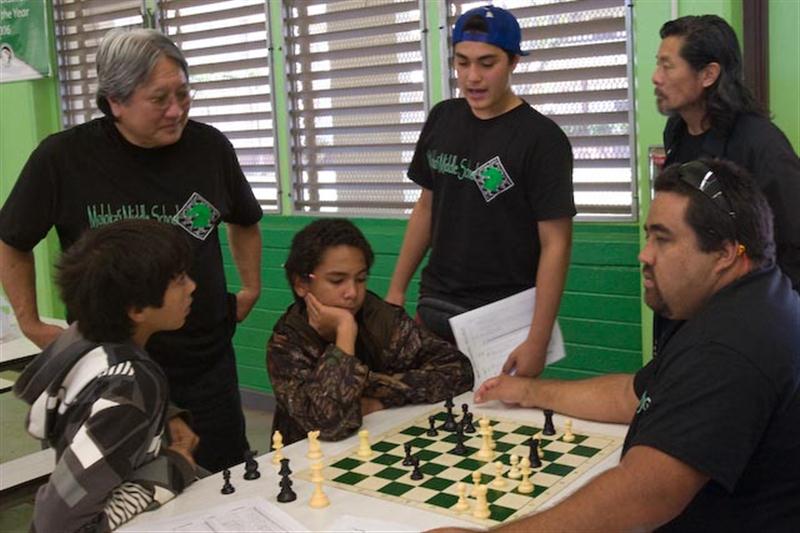 Moloka'i's "magnificent seven" would like to thank Tubz Kalipi and Mike Hino for volunteering their time to serve as chess coaches and elevating their game to a higher level in the short three-week period used to prepare for the State Tournament. To Moloka'i Middle School teachers Laree Mowat, 'Iolani Kuoha, Kahoiwai Kaawa, Fay Huff, substitute teacher Carl Adolpho, and school counselor Corene Helm for their ongoing assistance and encouragement.