MOC Leadership Shake-Up
Executive director suspended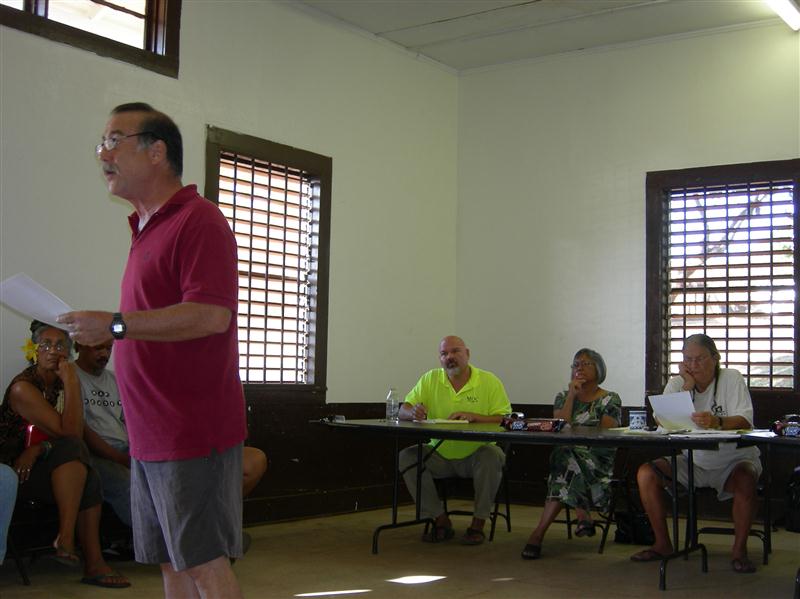 resulted in a necessary cut in total labor hours for some of our employees," he wrote in an e-mail.
Some at MOC are defending Sullivan.
Suzie Holtzman, a grant writer, said he is an asset to the organization who created jobs and brought MOC out of financial danger.
"I know who he is. He would never do any wrong doing to anyone," she said.
"This man's life is actually being ruined because not only is his job on the line, but his whole career."
Sullivan joined MOC in 2006, shortly after moving to Molokai. Prior to Sullivan, MOC had struggled with a series of executive director disappointment – one hire was found to have lied on his resume, while another didn't show up to work.
In an interview, Claude Sutcliff, the board vice president, said in a staff evaluation this spring, longtime workers who had worked under previous executive directors gave Sullivan favorable reviews, while newer workers were more critical.
Incomplete Board
Before the board can take "corrective measures" in response to the workers claims, it must recruit new members, according to Boswell.
While its bylaws require at least seven members, the board currently has just six, three of which joined in the last year and a half, according to Sutcliff, who has been on with the board for nearly 15 years. He said the board has had difficulty finding committed members.
Applications were distributed at the Nov. 15 meeting. Boswell said the board plans to meet to review applications and vote in new members in the coming weeks.
"If there's been any error, it was the fact that the board had no training and it was not in compliance with its bylaws," she said.
Also at the Nov. 15 meeting, workers recommended to the board they be more transparent by holding regular, public meetings. Board meetings currently are not scheduled, but Sutcliff said there have been 15 so far this year.
Making a Profit
In calling for the special board meeting, workers also charged that under Sullivan and the current board, MOC is headed toward bankruptcy.
Sutcliff denied this, saying that before Sullivan came on as executive director MOC was in trouble financially, but that Sullivan has helped turn it around.
At the meeting, Sutcliff presented financial records showing first quarter profits of over $136,000, projecting profits for the year of over $546,000.
Despite the continuous back and forth, workers, the board and Sullivan indicated a commitment to MOC and its mission. Their focus is now on rebuilding.
"We're going to put the heart back in MOC," said Boswell.