Mobilizing to Cleanup the Beach
About one hundred volunteers walked along Mo`omomi's coastline with large black and tan canvas bags, sifting through the sand and picking up marine debris that washed up on shore. Fast-food takeout containers and cups, tires and even a propane tank littered the area. Sustainable Coastlines Hawaii's (SCH) beach cleanup brought volunteers together to do something about the trash last Saturday.
About 7,000 pounds of plastic shards, rope, nets, bottles, wrappers and other trash was removed from Mo`omomi Beach thanks to hard work from the Molokai community, said SCH Executive Director, Kahi Pacarro.
"We're here because we love the beaches and want to keep them clean," Pacarro said. "The only solution to all of this marine debris is to stop using so much plastic. We found that best tool to do that is to show volunteers exactly what's washing up on their beaches."
The Oahu-based nonprofit has been throwing hands-on cleanups throughout the state for three years with a mission to inspire local communities to care for their coastlines. The day began with debris collecting, followed by sorting what was found. Attendees enjoyed live music, food, games and prizes near the event's end.
"We're doing a small boost to the economy while also invigorating the community to show them how beautiful Mo`omomi is," Pacarro said. "We hope this will forge a lasting partnership because we want to come back every year."
All trash collected will be taken to Oahu to be donated to SCH partnering organization that can recycle and turn it into products like skate boards, soap bottles and yarn. SCH aims to divert as much debris as possible away from landfills. SCH partners with the Hawaii Tourism Authority, Hawaii Community Foundation, Method, a San Francisco-based company that produces nontoxic, biodegradable natural cleaning supplies with a focus on sustainability, and Pharrell Williams' Bionic Yarn, a company that transforms fibers made from recycled plastic into durable yarn, as well as private donors.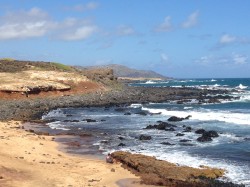 "The coolest part is what they do with all of the rubbish that is collected," said volunteer Dan Emhof, director of operations for Akaku on Molokai. "It's recycled to make skateboards and other products people don't even know about, or know where it originally came from. That's a powerful message."
Patricia Hammond of Molokai Soaps said she's proud Method uses recycled plastics to make dispensers for its biodegradable household cleaners, laundry care and soaps.
"This plastic is getting new life," Hammond said. "The best part is that none of it is staying on Molokai. They're not putting it in our landfill."
SCH organizes four cleanups on Oahu every year and three on neighboring islands like Kauai, Maui and Hawaii Island. The nonprofit expanded their message to Molokai for the first time with the help of Molokai High School senior Kamiki Agliam.
Agliam got SCH involved in her senior project on beach cleanups. Three weeks ago, Pacarro visited Molokai to meet Agliam, land management partners The Nature Conservancy and Molokai Land Trust, and traditional resource manager and Mo`omomi caretaker Uncle Mac Poepoe to implement the cleanup. Poepoe granted permission for volunteers to visit Mo`omomi. Pacarro gave island-wide school presentations about marine debris to students for three days kicking off the event, and resulting in youth participation.
"I came here today because I don't like seeing fish die," said 8-year-old Cassidy Duquette.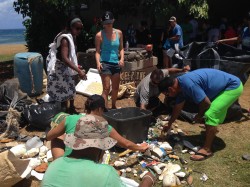 Kilohana Elementary student Duquette said cleaning up trash from Mo`omomi is important.
"I helped pick up a lot of plastic bags, ropes and trash out there," she said. "I want to continue doing this because it's better for the earth."
Agliam said she and her family travel to Mo`omomi often, and noticed the alarming debris that has washed up on shore.
"When Kahi [Pacarro] presented to my class I realized what impact [marine debris] has on not only us, but also the wildlife around the island," Agliam said. "Our island is what provides food and shelter for us and if we want to continue keeping our aina healthy we have to malama it."
Next year she's planning another cleanup on Molokai's east end. She's also working to form a group that will host several cleanups throughout the year. Agliam plans to place crates at Mo`omomi for visitors to pick up trash and that washes up and place it in the crates. The trash collected will be shipped over to SCH and recycled.
Fina Kaauwai, Agliam's aunt, hosted the secondannual Lolly Agliam Molokai Masters Ulua Tournament in honor of her father at Mo`omomi Saturday. Lolly Agliam was a popular fisherman and member of the 100-Plus Club, a Hawaiian club for fisherman who have caught fish weighing 100 pounds or greater while fishing in the state. HFN honors and congratulates these fishermen on their outstanding achievements.. Kaauwai said sharing her father's story and collaborating to cleanup Mo`omomi was a blessing.
"Mo`omomi is where we grew up. I was born and raised on Molokai, live on Hawaiian homestead and [ Mo'omomi] our second home," Kaauwai said. "It takes care of us, we feed our families from Mo'omomi, so it wasn't a question to have [SCH] here."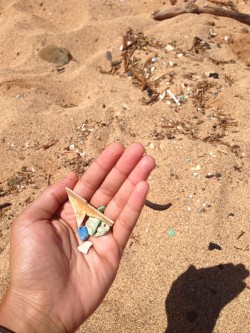 Kaauwai said she wants to decrease plastic usage on Molokai.
"The ocean is churning with stuff and we're stuck in the middle of it," Kaauwai said. "We have to get away from depending on plastic. The less plastic we use, less would end up in the ocean."
About 90 percent of trash that washes up on Hawaiian shores comes from abroad as a result of the Great Pacific Garbage Patch that is located in the central North Pacific Ocean, Pacarro said. The patch, or the Pacific trash vortex, is a gyre of marine debris stuck in a vortex that swirls around and breaks down into tiny pieces. As winds blow through the gyre, garbage is pushed up onto the island chain. The only way to clean the gyre is by picking up trash off the coast, making "beach cleanups, gyre cleanups," Pacarro said.
"It's not the solution by any means, but it raises awareness to the marine debris issue," Pacarro said. "Our dream is to process marine debris that we find to make products here in Hawaii. If we could use a resource that's washing up on our shores and turn it into a commodity, the public will get involved."
To find out when the next SCH cleanup is, visit sustainablecoastlineshawaii.org.