Moana Dudoit: A legacy of love, culture and ohana
"One of the best friends I ever had." "Always helped everyone." "A legacy of unconditional love." "Always dreamed big." "Spiritually strong." These are just a few of the ways one of Molokai's most beloved kumu hula, Aunty Moana Dudoit, is described by family and friends.
For more than 40 years, Dudoit's halau has taught and supported about 300 people ranging in age from 4 to 90-something. Traveling around the world to share the aloha spirit, Hawaiian culture and love of family, Dudoit has touched not only those on her native island of Molokai, but also those on the mainland, and in Japan, Europe and the South Pacific.
"She was one of the greatest ambassadors of aloha our island has had," said former county council member Danny Mateo. "She was someone with so much love and compassion."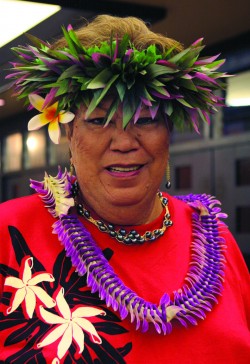 Dudoit died on March 16 at the age of 73, surrounded by family and friends.
"We believe that her legacy is a message of unconditional love," said Dudoit's grandniece Zhantell Dudoit. "The whole idea was that she loved everyone unconditionally. She really believed the type of love and family foundation found on Molokai can't be found anywhere else in the world."
"She was really special, not only to her friends and family but to the island," said close friend Shirley Rawlins. "We are suffering a great loss."
A Molokai Life
Born on Nov. 19, 1939, Dudoit was the youngest of 19 children born to Maurice and Lahela Dudoit.
Lahela was fluent in the Hawaiian language, culture and traditions, according to Zhantell. Long-time childhood friend Toochie Kalipi remembers their mothers getting together to weave lauhala mats, while the children played together.
"As we grew up, we were very inseparable," said Kalipi. "I called him 'Butchie'… [One day when we got older], he told me, 'My name is now Moana,' but I said I could never call him that because I've known him as Butchie from the time we were little, and he said 'OK, you're the only one who can call me that,'" Kalipi laughed.
"He was one of the best friends I ever had," she said.
Dudoit's father had started a taxi company, and after returning from college, Dudoit ran the business, which had evolved into a bus service. Dudoit's Bus Service continues to play a vital role in the community, safely transporting local keiki to school. Dudoit was also part owner of Moana's Florist with her sister, Raquel.
In addition to being a staunch friend, Dudoit was known by her family to be an anchor of strength and inspiration, according to Zhantell.
"She always dreamed big and thought outside her circumstances. She set an example for the rest of the family," Zhantell said. "She always was present in each of our lives."
Moana's Halau
While the halau has always called Molokai home, making its top priority the cultural education of local youth, adults and kupuna, the group has traveled around the globe to share Hawaii's cultural identity. Dudoit also established a halau in Japan.
"Moana's halau offered the opportunity for a lot of children who wouldn't have otherwise been able to go out into the world," said Zhantell.
A performer herself, Zhantell accompanied Dudoit on some of her travels and recalls, "She would always say when we caught the plane, 'So are you ready to infect the world?' [She made us feel] responsible to go out there and show the type of aloha that is found only where we are. She believed if we could work on one country at a time, it would be infectious."
The halau has always been free to join, and is supported by an annual fundraiser that features a dinner and elaborate hula show, as well as support from donors and community members.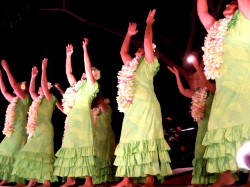 "Once you are a member of the halau, you are always a member," she added, saying that often young members leave the island, then return to dance with the halau years later.
Dudoit, along with fellow kumu Raquel and others, taught traditional, local hula as well as dances from Tahiti and other cultures.
The halau has regularly competed in the Merrie Monarch Festival on the Big Island, and its success there has won Moana's further recognition. Performances of Na Kupuna O Moana, made up of older residents, has been particularly noteworthy at Merrie Monarch, winning multiple first place honors over the years.
Despite her success, Dudoit remained humble.
"Her love for God and her spirituality and her belief in God's power… was a cornerstone," said Zhantell. "All credit she contributed to her relationship with God… she was very spiritually strong."
A Lasting Legacy
While Dudoit's physical presence is no longer with us, all those who knew her agree that her spirit and mission will live on.
"She's left a legacy of cultural pride, being satisfied with who we are… and always remembering our humble beginnings," said Mateo. "At least she has helped chart the course for generations to come."
"She always helped everyone, never said no — that's the kind of person Moana was," said longtime friend and fellow Molokai-born performer Melveen Leed. "Her house [on the east end] was like grand central station — everybody went there, even strangers… She would take in anybody and everybody and take care of them."
While the last several years of Dudoit's life was fraught with medical complications "she was able to remain happy and spirited," said Zhantell. Her illness began in 2010 when she suffered total organ failure.
"It was a miracle that she came back to health," said Zhantell.
In the last days of her life, she insisted on staying on Molokai, with family around her. She died at Molokai General Hospital.
"I don't know what it's like having Molokai without Moana," said Mateo. "There's a saying 'A day without orange juice is a day without sunshine.' We've lost our ray of sunshine."
Services
Services will be held on April 27 from 9 a.m. to 5 p.m. at Mitchell Pauole Center. From 9 to 10:30, family and friends will have the opportunity to record their memories, share photos and remember Dudoit through a gallery presentation. The service will be held from 11 a.m. to 1 p.m., followed by a hula show and concert until 5 p.m. Food will be provided, and attendees are asked to bring lawn chairs. Performers from across the state will provide entertainment, and members of Moana's Halau throughout the years are gathering to dance a memorial tribute.