Moa'e Molokai Digital Repository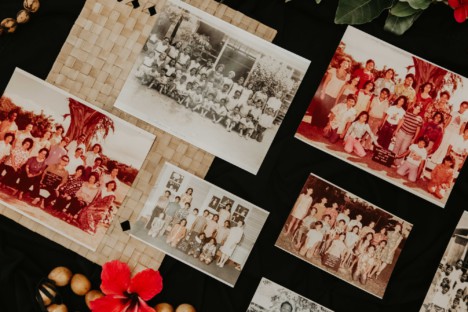 Ka Ipu Makani Cultural Heritage Center News Release
Ka Ipu Makani Cultural Heritage Center and the Molokai Library Services Cadre are proud to unveil a remarkable achievement in the preservation and celebration of Molokai's cultural heritage—the Moaʻe Molokai Digital Repository. This project, born out of unwavering community dedication, represents a historic leap forward in preserving, and sharing the rich history and traditions of Molokai.
The Moaʻe Molokai Digital Repository traces its origins to the Hoʻili Hoʻoilina Training Program—a community-focused initiative with a mission to engage individuals dedicated to digital archiving and the preservation of Molokai's cultural legacy. This program equipped participants with the essential knowledge and skills needed to build a digital community repository.
One pivotal aspect of this initiative saw program interns collaborating with local libraries to identify and commence digitization efforts for distinctive collections that hold profound cultural and historical significance for Molokai. The libraries within our close-knit Molokai community have served as the guardians of our shared history, diligently preserving the island's traditions and heritage. Without the sustained care and attention provided to the physical materials over the years by past librarians, educators, and supportive administration, the success of this digitization project would not have been possible. Their century-long dedication to preserving our priceless heritage does not go unrecognized, and we are forever grateful for their diligence.
Following a year of dedicated work and the development of a comprehensive workflow for digital archiving, cataloging, and inventory management, the project's focus shifted to the creation of the Moaʻe Molokai Digital Repository. Powered by Veridian software, this cutting-edge platform will host over 20,000 searchable records specific to Molokai's culture and history. Furthermore, Moaʻe Molokai places the protection of culturally sensitive information at the forefront of its priorities. The commitment to creating a platform that respects the diversity of cultural perspectives while facilitating access to invaluable knowledge remains unwavering.
The Beta version of the Moaʻe Molokai Digital Repository is set to go live in February 2024. In preparation, between October-November 2023, Ka Ipu Makani will convene a target group comprised of 35 community members to test the website, providing feedback on its quality and usability. Furthermore, between January-April 2024, Ka Ipu Makani will host public events via Zoom and/or in-person, providing guidance to community members on how to effectively navigate and utilize the website.
The successful realization of this project was made possible through the generous support of the Hawaii Council for Humanities, the Association of Tribal Archives, Libraries, and Museums, the Institute of Museum and Library Services, and the National Historical Publications and Records Commission.
For the latest information and updates on the Moaʻe Molokai Digital Repository or if you are interested in participating in the target group, please contact us at info@moaemolokai.com.