Miracle Girl Returns To Kalaupapa
Community Contributed
By Father Pat Killilea, St. Francis Church, Kalaupapa
She stepped from Makani Kai Air with the agility of a New England Patriots' cheerleader and walked to Kalaupapa's Terminal 1 with the grace of a Hawaiian hula dancer.  Audrey Toguchi, now 86 going on 26, credits her miraculous healing from lung cancer to the intercession of St. Damien. So she had come from her home in Aiea, Oahu on this day, May 10, to celebrate with us the feast day of St. Damien. It was on this same date in 1873 that Damien arrived here at the Hansen's disease settlement in Kalaupapa.
When we arrived at St. Philomena's Church in Kalawao, the location of the original Hansen's disease settlement, St. Damien's relic had already been placed in the center of the sanctuary by the careful hands of Sister Alicia Damien OSF and Melie Watanuki. Quietly Audrey took her place in the church which had been twice enlarged by Damien's hands. Her casual blue hat may have concealed her halo but it did not veil her quietly peaceful face or her gentle humor. It was an honor to have her in our congregation for the celebration of our Mass in honor of St. Damien.
It has been almost 10 years now since I first visited Kalaupapa and St. Philomena on July 9, 2004. On that memorable day, I had stood in the sanctuary in front of Damien's altar and had my picture taken along with one of our young Sacred Hearts men from California. Later that same day, we both sat on the back of Paul Harada's pickup truck and endured the bumpy ride up to the Kauhako crater. The memory of that rocky ride is forever engraved in my mind… and on my fragile tailbone. On this day in May 2014 that same young man, Father Brian Guerrini, joined me in celebrating Mass and gave an inspiring homily to our large and enthusiastic congregation.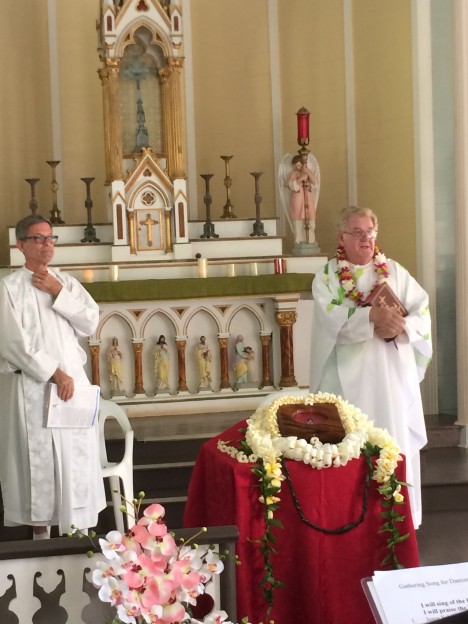 After visiting Damien's grave accompanied by the customary photo taking, we made our way slowly back to the Kalaupapa settlement where we enjoyed a hearty lunch at McVeigh Hall. Life here in Kalaupapa is simple but we do enjoy our celebrations and our parties. It is good to celebrate our oneness in this special place.
It had indeed been a special day for all of us, both residents and visitors, but now it was time for our visitors to take their leave of this sacred place. So we gathered at our little airport, as we often do, to say our alohas to our departing friends. Audrey gave me a big hug (wow!) and then with a twinkle in her eye turned to someone standing nearby and said something in the nature of, "He loves these squeezes!" Truthfully I do and I await her coming again.