Minor Leagues Come to Maui
It's time to break out the peanuts and Cracker Jacks. Last week, the Golden Baseball League (GBL) announced they would be expanding with a new team on Maui. The team, named Na Ikaika Koa Maui, is scheduled to play its first game this May.
"I love Maui and I love the opportunity," said the team's president Rick Berry. "In talking to a lot of people, it was just the excitement. You have to have a passion for it. The excitement from the people and the passion is there."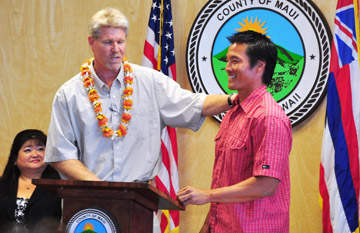 The 30-year-old Okano has played for three different GBL teams before returning to his native Hawaii this year. Okano, who will play outfield for Na Ikaika, was born in Honolulu and graduated from Aiea High School.
"This is my living dream, playing at home in front of the home crowd," Okano said. "It is very cool to be the first signee. We have a great name and this is Hawaii, you know, representing my home state."
If Snyder has his way there will be plenty of other team members representing their home state in May. Snyder listed several Hawaiian players that he was hoping to sign in the off-season. Molokai graduate Milton Loo was one of the players Snyder will try to add to the roster.
"Milton Loo is definitely on the list," Snyder said. "I will get as many local guys as I can."
Loo graduated from Molokai High in 2005 and was drafted by the Cincinnati Reds in the ninth round. He went on to play shortstop for Yavapai Community College in Arizona where he was named an All-American.
Berry said he fully understood the challenges that go along with starting a team in Hawaii, but was confident they could make it work. He said the team is still looking for airline and hotel sponsors to assist with travel.
"We are a little behind where we want to be right now, but we know what we need to get done and that really helps," Berry said.
Na Ikaika will play its home games at Maehara Stadium in Wailuku and Berry said ticket prices will range from $5 to $14. An official schedule will be released later this month.