MIL Champs Once Again
The Lady Farmers basketball team toppled Seabury Hall this past Friday night for the Maui Interscholastic League (MIL) championships on Maui, scoring 50-19.
Molokai scored 19 points and allowed 10 points in the first half. They shot 30 percent from the field in the first half, according to Maui News. They came back with 31 points in the second half, and allowed only 9 points in the second half.
"We got off to a slow start, but picked it up eventually," said co-head coach Mike Hooper.
Molokai played their whole team, Hooper said, and some of the high scorers were Kalei Adolpho with 21 points and Marissa Sterner with 13 points.
After the half, the Lady Farmers extended to a 20-2 with the help of four straight points from Adolpho and two points from Kaira Kaulia-Makaiwi. They eventually went on a 30-point gap, according to the Maui News.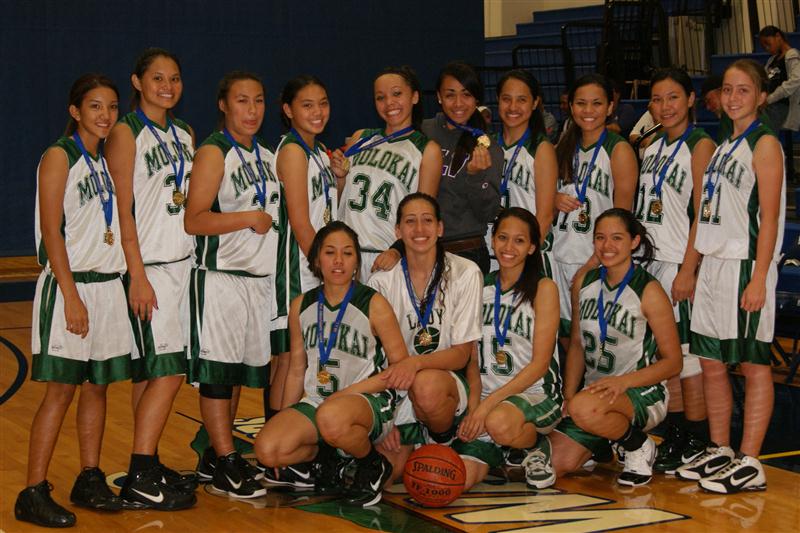 For the fourth consecutive year, the Lady Farmers will represent MIL Division II at the state tournament on Feb. 1.
"We'll be preparing for one big goal after this," Hooper said.
Before the state tournament, Molokai will head to Maui one more time to face off against two Division I teams. They'll play against King Kekaulike on Friday and Lahainaluna on Saturday. The stakes aren't high, but the games will be a test for Molokai.
The Farmers are now 6-0 in the regular MIL season. They will have to wait until this Sunday to find out who their opponent will be at the state tournament – vying for their third state championship.
"We have been working all season for this," Hooper said.