Mikayla Pico Receives Leadership Award from Mufi Hannemann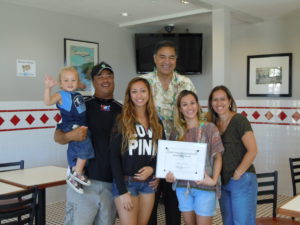 The future is looking bright for recent Molokai High School graduate and Maui Interscholastic League Wrestler of the Year Mikayla Pico. She will attend Southwestern Oregon Community College this fall, where she plans to major in education. In addition to a wrestling scholarship from the school, she received the Faiaso Soliai Hannemann Leadership Award, presented by Mufi Hannemann last week.
The $500 award and plaque is given to one female student annually in the state, who is of Samoan ancestry and demonstrates academic promise and leadership potential. The award is in honor of Hannemann's mother, while the Gustav Hannemann Leadership award, in honor of his father, is given to a male student of Samoan ancestry.
"Education was important to my parents," said Hannemann, as he presented Pico with the award at Molokai Burger last Wednesday. They encouraged him to get a good education, he said, and "use [it] to help others."
Through her four years at Molokai High, Pico has shown commitment to academics as well as nationally-recognized excellence on the wrestling mat. The summer of her junior year, she placed third at the National Championship in North Dakota, and went into the state finals her senior year seeded first. She battled a shoulder injury, which eventually left her wrestling the final match of the state meet one-armed, losing by just one point.
"When I came [to Molokai High] earlier this year, all the faculty was talking about you," Hannemann told Pico, whose family was also present at the awarding at Molokai Burger last Wednesday. "I only ask one thing: after you finish your education, you think about coming back home…to serve as an example."
With her arm in a sling after a shoulder surgery but a smile on her face, Pico said that's just what she plans to do. After finishing at Southwestern Oregon, she said her goal is to return to Molokai and become the island's first woman wrestling coach.
Pico's older sister, Deisha, also received the Faiaso Soliai Hannemann Leadership Award in 2007.
"I love Molokai, and I love your family!" laughed Hannemann. The Democratic Congressional candidate combined the award presentation with a last stop on Molokai to campaign before the Primary Election.
Hannemann also sponsors several other awards from his personal funds, including the Harvard Book Award, which Hannemann, a Harvard graduate, has funded for more than 30 years, according to a press release. The award recognizes high school juniors who demonstrate excellence in scholarship, extracurricular and personal character. Molokai High student Michael Kikukawa was selected for that award this year.