Mikami Wins Health Award
Community contributed by Billy Akutagawa
Judy Mikami, who is working as the associate director and resource developer for Na Pu`uwai on Molokai, was recently presented with the 2011 Dr. Alexander F. Ka`onohi award. The award is given to individuals who have made significant contributions to the health, healing and well-being of Native Hawaiians and their families. Her work was especially noted for the Native Hawaiian communities of Molokai and Lanai.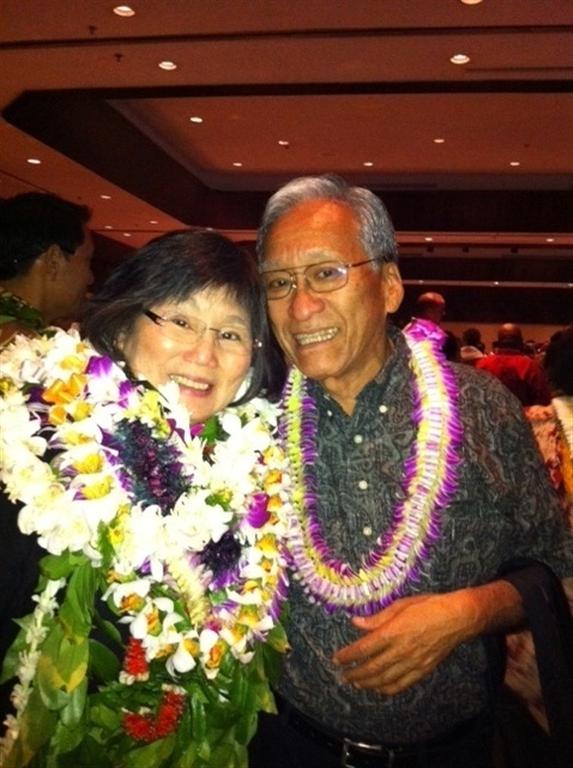 Mikami, a registered nurse and with a master's in public health, was cited for her many years of active memberships on different boards, and as advisor to health institutions and organizations, thus helping to bring needed health resources to the island. These include the National Kidney Foundation, Hawaii State Rural Health Association, the American Heart Association, Hawaii Association of Diabetes Educators, and the Maui County Office on Aging Mayor's Council. She has also established, with assistance from Arcadia Senior Services and other partners, the Senior Enrichment Adult Day Care Center. Adult Day Health services for Molokai will also soon become a reality through her efforts. Through her grant writing skills, she has brought into Molokai and Lanai $11 million in health care resources over the past seven years. Both she and her husband David have contributed immensely to the establishment of the Molokai Dialysis facility.
Judy's father, Richard Sakata, was Molokai's first pharmacist, and mother, Betty Maeda, was the first secretary at Molokai High School. Molokai Drugs was founded by Richard in 1935 and continues to be staffed by David, his brother Jon, and David and Judy's daughter Kelly. Daughter Kim manages Molokai Drugs, and their third Daughter Kathy is a registered dietitian on Oahu.
Dr. Kaonohi was a noted naturopath, pharmacist and botanist, who employed both Hawaiian and western healing traditions in his practice. Dr. Kaonohi used a combination of Native Hawaiian herbal as well as western medicine to treat his patients at his Oahu practice, often taking native food products in lieu of payment for those who could not afford his fee.
The award was presented at the Marriott Resort and Spa in Waikiki. Other awardees included physicians, dentists, traditional Hawaiian healers, educators and researchers.