Middle School Wins Big at State Level
MMS Media News Release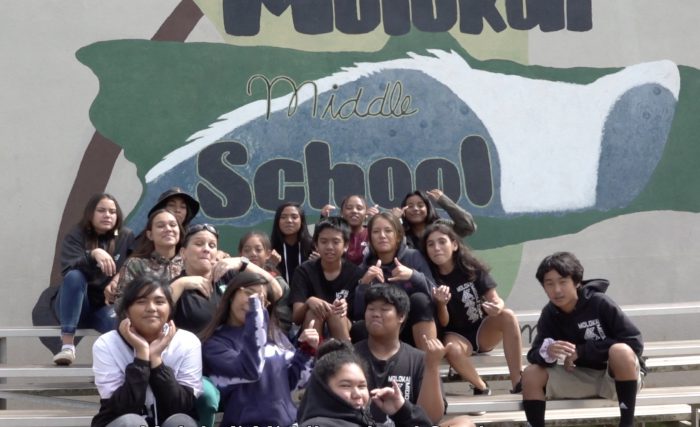 Congratulations to Molokai Middle School Media and Leadership and eighth grade English Language Arts (ELA) students. Students won first place and were the top three finalists for five categories among 900 entries at the 17th Annual Olelo Youth Xchange Video Contest. The contest is the only Statewide Video Competition and showcases Student Voice from K-12 public and private schools. Congratulations to the following students:
1. Documentary: Kailana Guerrero-McGuire & Carly Dudoit – "Grief"
2. Short Film: Kuulei Simon, Leilei Starkey-Ahyee & Keahi DeCosta – "Eo Molokai"
3. Sponsor: Kalawaia Puaa-Kanawalewale, Heath Lopez & Kahekili Cuello – "808 No Vape"
4. Sponsor: Zaylyn Satele-Tonganan – "Forest Inspired"
5. Sponsor: Halle Acgaoli and Tiffany Alavazo-Quinones – "Free Speech" – First Place
Due to Covid-19, the Live Broadcast Ceremony at the Hawaiian Convention Center on Oahu was cancelled. Students would typically enjoy a semi-formal brunch, network with other students and teachers, take photos in front of an official step-by-step banner, participate in livecasted interviews and mingle with industry executives and newsmakers.
This is the third consecutive year that MMS students placed in the top three in the state. The first year they won the Newcomer Award and a Sony 4K HDR camera. In the second year, MMS had three groups take the top three spots and also won a $1000 prize in the Maui District Video Competition. And in its third year since the program started, five groups placed top three in the state and had a first place win. Not only did MMS students showcase their talents at the state and district levels, students Halle Agcaoli and Kuulei Simon hosted the Maui District Digital 808 Storytellers Award Program. And to add to this year; all eighth grade ELA students had the opportunity to participate.
Students enrolled in the Media and Leadership program engage in Project Based Learning and produce videos that address real-world issues. Students produce content from pre to post production (i.e. identify an issue, storyboarding, scriptwriting, filming, editing) with advisory input. Students also play an integral role in school leadership activities throughout the school year.
The mission of the MMS Media and Leadership program is to provide a platform for student voice and representation of Molokai's unique perspectives in a global community. Students from Molokai have valuable contributions to present at the District and State level. Co-Teachers Nichol Kahale and Mike Kahale continue to offer the educational program to allow students to compete at the district and state level as well as the potential of competing nationally. Videos will be available to view on Vimeo, Youtube and other Social Media platforms in the near future.
Mahalo to MMS (Principal Dawn Mains, faculty, staff, students and parents); Maui District TV (Mark Hymas); Olelo (Kapua Seegol); Mycogen (Adolph Helm) and Former MMS Principal Gary Davidson.