MHS Students Visit East Coast Colleges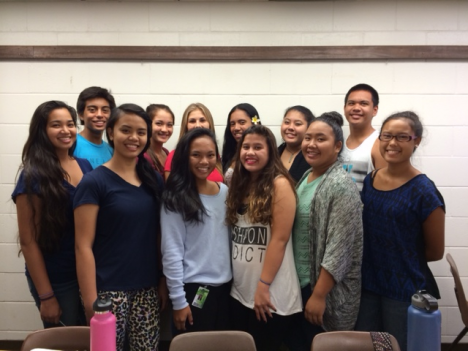 Community Contributed
By Ric Ornellas
Molokai High School (MHS) 2013 graduate Michael Kikukawa is the first Molokai student to study at Harvard, a recognized institution in the world of higher education. Michael's current academic standing as a Harvard sophomore inspires other MHS students to broaden their horizons in higher education.
On Friday, Oct. 3, 14 MHS students will travel to New York City and New Haven, Connecticut, to visit universities and colleges to consider post-high school educations on the East Coast. The students are members of the Molokai College Career Tour Club (MCCTC), a new MHS student club. The students will visit Columbia University, Barnard College, Fashion Institute of Technology, New York University, and Yale University in New Haven, CT. The students have average grade point averages of 3.70 to 4.10, are members of one to three athletic teams, and participate as club, class or student-body leaders. The students and their families worked over the past year to raise all funds to pay for the trip, including the Keola Beamer Dinner Concert on Valentine's Day in February, 2014. Thank you to all Molokai donors who gave and sponsors who supported the students.
In addition to college visits in NYC, the students will pursue career readiness by forming three-member work teams to visit one of four locations: a Wall Street investment bank, an architectural firm, a construction site, and a diplomatic mission to the United Nations. The students will visit the ABC Studio set of The Dr. Oz Show to explore career development with the show's Emmy-winning producer and talent coordinator. They will experience NYC as college students rather than tourists by traveling only by subway and purchasing their meals in neighborhood coffee shops, delis, or restaurants instead of pre-ordered hotel dining.
On Thursday, Oct. 30 at 6 pm, students will share their NYC and New Haven experiences with the Molokai community in multi-media presentations at Ohana Night at the MHS Library. A special invitation to former New Yorkers who are now Molokai residents… please join us!
MCCTC President is Edel Mae Alvarez, Vice President is Edwin Ekolu Greenleaf, Secretary is Geisha Nunez, and Alexandria Simon is treasurer, with Co-Advisors Diane Mokuau and Ric Ornellas, and chaperones Karen Harada and Suliana Aki.