MHS Students Receive a Community Supported Scholarship Award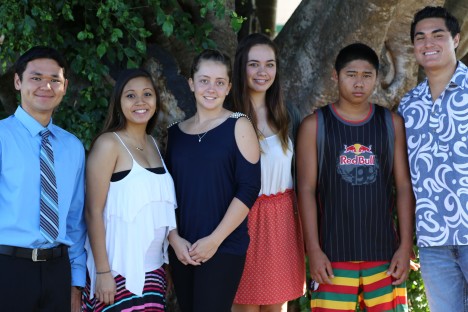 The MOM Hui News Release
Congratulations to this year's 2014-2015 Ho`ola Hou Community-Based Scholarship recipients at Molokai High School (MHS): Paul Parker, Bernadette Aragon, Xrystina Bicoy, Lahela Tamanaha, William Casil-Dudoit, Kiloaulani Ka`awa-Gonzales and Rizpah Torres-Umi.  Each student will receive an annual scholarship of $1,215 and will be awarded at the Second Annual Grassroots Benefit Concert on Saturday, July 5.
The MOM Hui established this scholarship fund to support MHS senior students who demonstrate a commitment to furthering their education and earn a college degree that focuses on protecting and restoring the health of the environment and human life.  We are very excited that several of the students will be entering the medical field including nursing, midwifery and pediatric neurosurgeon and majoring in agriculture and natural resources and ecosystem science and sustainability.
The Ho`ola Hou Community-Based Scholarship Fund has been made possible through the Annual Grassroots Benefit Concert (100 percent of the ticket proceeds benefit the fund), a family-oriented community event that promotes a healthier environment and lifestyle on Molokai. It was also supported by the Molokai Environmental Protection Fund, managed by the Tides Foundation, that "support[s] organizations that protect the Hawaiian island's environment and enhance its community's access to legal services, education, and environmental advocacy."
Mahalo to our Molokai community, families and members of the Molokai Environmental Protection Fund for your generous contribution!  With your continual support we will be able to offer scholarship awards to Molokai keiki for many, many years to come.
Best of luck to our scholarship recipients!
For more information on the Ho`ola Hou Community-Based Scholarship Fund or the Annual Grassroots Benefit concert contact Mercy Ritte at Molokai@themomhui.com.