MHS Robotics Begins New Season
MHS Robotics News Release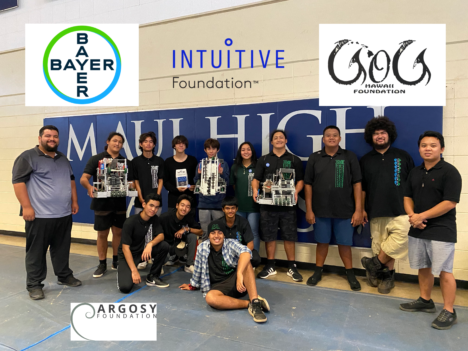 After a successful comeback in FIRST Robotics late last school year, the Molokai High School Robotics Team competed at its first in-person VEX Robotics Tournament in over two years on at Maui High and managed to finish as tournament finalists and won the Judges Award!
For this season, we are expecting to compete at least six times — four with VEX Robotics and two with FIRST Robotics.
In addition to competitions, MHS Robotics has also revived the Molokai Robotics VEX IQ League, which we last hosted in 2019. The league serves as an opportunity for local elementary/middle school robotics teams to compete without having to spend money traveling interisland. We would like to send a huge thank you to the Gary O. Galiher Foundation for funding this year's league, which included both registration costs and purchasing all the equipment the schools need to get started!
We would also like to take this opportunity to thank our current sponsors for this season: Bayer Hawaii, the Gary O. Galiher Foundation, Intuitive Foundation, and Argosy. Our season would not be happening without you!
For any questions about our program, please contact Head Instructor Edwin Mendija at edwinmendija@gmail.com, or at 808-658-0429. Mahalo to our community for your continued support!