MHS Prepares for Ka Molokai Makahiki
By Sage Yamashita, Intern Reporter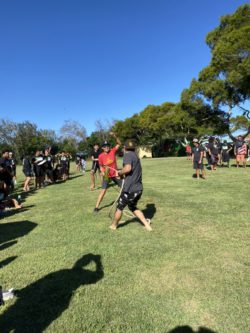 It's a new year and the annual Makahiki games are right around the corner. In a time of joy and prayer, friendly competition will excite Molokai's community. Last Thursday, Molokai High School students prepared with their own Makahiki games to find their representatives for the upcoming community games on Jan. 28.
"Since we started academies this year, we wanted to kind of have our academies build that sense of belonging and that teamwork, that idea of teamwork," said Vice Principal Tilana Roberts. "So each academy actually finds the champions."
According to Roberts, freshmen to seniors are in academies of community service and sustainability academy (CSS) or innovation and business technology (IBT). Each of these students signed up for a game in which they could find their strength.
From 9:30 to 10:30 a.m. with the help of Ka Molokai Makahiki officials, the games ran with Farmers' spirit.
Games included haka moa (one-legged chicken fighting), uma (arm wrestling), ulu maika (Hawaiian bowling), konane (Hawaiian checkers), and kuakini (running race). The students were able to cheer each other on and experience one of Hawaii's ancient traditions.
Molokai High School's representatives will be seen competing Saturday, Jan. 28 in Ka Molokai Makahiki at Kauanakai Ball Park.