MHS Hosts First-Ever MIL X-C Championships On Saturday
Community Contributed
By Sue Forbes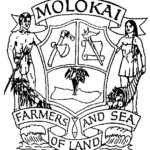 For the first time ever, Molokai is hosting the Maui Interscholastic League Cross Country Championships to be held this Saturday, Oct. 19 at Ironwoods Golf Course. The Boy's race begins at 11 a.m. Upon completion of the boy's race, the girls will toe the line to determine who will be crowned champion.
Molokai High School is hosting this competition for the first time. More than 150 off-island competitors will make the journey to Molokai to race. Members of Molokai High School's Boy's X-C team are: Greyson Aldridge, Kealohanui Helm, Luke Kikukawa, Tanner Mosher, Makana Naki, Keaoalono Ross, and Erik Svetin. MHS Girl's X-C team members: Kristine Aquino, Korie-Lee DeRouin, Alohalynn Espejo, Coral Lopez-Kapuni, Barbara Ludgate, Krisitin Tancayo, and Esther Umi.
Come up to the Ironwoods Golf course this Saturday to watch the action.