MHS HOSA Team Earns National Recognition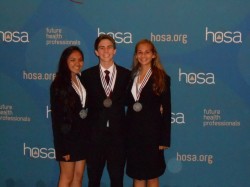 Community Contributed
By John Van Ornum
Six students, one advisor and one chaperone from Molokai High School (MHS) traveled to Orlando, Florida on June 22 to compete in Health Occupations Students of America (HOSA) national competition. The team of Oceana Madani, Marissa Motas, and Luke Kikukawa earned second in the nation for their PSA presentation on Child Hunger. This achievement places Molokai students in the national spotlight and shows that hard work does pay.
The win was offset by the burden of traveling eighteen hours and crossing four time zones to reach their destination. Molokai competitors face challenges that other islands and states do not in terms of cost and travel time.  Earning a silver medal will surely be one of highlights of their high school careers.
In addition, Paul Parker was chosen out of 700 applicants to receive a HOSA scholarship. He was recognized on stage and received a private dinner with other awardees and industry dignitaries.
While the competition took center stage, the HOSA national organization allocated time for competitors to tour Disney World and Universal Studio Theme parks. Roller coasters and 3D rides were combined with shopping for gifts.
I would like to thank Melony Parker for stepping up and helping to supervise this trip. Next year's national competition will be located in Anaheim, California close to Disneyland and Knott's Berry farm.