MHS HOSA Club Seeks New Members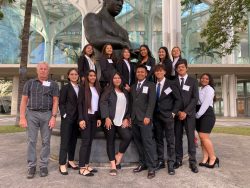 By Daylen Casino, former HOSA club president and recruiter
Established in 2005, the Molokai High School HOSA — Future Health Professionals Club — has created opportunities for students who are interested in the health field, and for those who want to explore their career options.
Last year, the club consisted of 14 members, the majority being seniors. With school just around the corner, the recruiters of Area Health Education Center (AHEC) hope to encourage more students to join, even if they're unsure or sure of what career they plan to pursue. We believe that every student deserves to have opportunities, even through times like these, where they're limited.
As a past member, I can speak from experience that this club has provided opportunities beyond Molokai. Joining this club was one of the best decisions I've made in high school. I first joined my junior year, and since then, I've made friends, had fun, while also participating in events that have benefited me. On top of that, my partner, Chelia Decoite-Sanchez, and I were able to place second in our event, Community Awareness, at the HOSA State Leadership Conference (SLC) held every year at the Hawaii Convention Center on Oahu. I will be continuing my education at Leeward Community College, and ultimately, I plan to obtain my Bachelor of Science in Nursing.
"Being in the HOSA club was a definite highlight of my high school experience," said Decoite-Sanchez, who will be attending Kapiolani Community College. "It helped me to discover my career path that I am currently working towards in the medical field. During my first year in the club, my partner and I placed at the HOSA SLC. It was thrilling to attend the convention's competition and activities. I'd highly encourage students interested in science or the medical field to join HOSA."
Due to COVID-19, this year is looking a bit different for the club. For the health and safety of the students, the SLC will be virtual, though the club does have plans that will make up for it.
Students who are interested or have any questions or concerns may contact our current club president, Aaliyah Cariaga, through email, 2021acariaga@molokai.k12.hi.us. For more information/updates, you can follow our Instagram page @molokaihs_hosa and our Facebook page at Molokai HOSA – Future Health Professionals Club.