MHS Freshman to Box in Jr. Olympic Nationals
Molokai Southside Boxing Club News Release
Amateur Boxing of Hawaii held its Junior Olympics Regional Competition on Oahu on May 19 and 20. Molokai High School freshman Hunter Manaba entered the competition and was unopposed in his 136 pound weight class. To qualify for the Junior Olympics, fighters must have at least five sanctioned bouts. Hunter earned a spot on the Hawaii Boxing Team comprised of seven 15 to 16 year olds: Kristopher Alcos-Kaua`i, Jaybrio Pebenito, Cole and Colt Dante, Kekoa Balasi, Lexus-Keanu Maduli-Pagampao, all of Oahu, and Hunter Manaba of Molokai. The team will be traveling to Mobile, Alabama in June to represent the state of Hawaii in the 2012 Junior Olympics National Championships. The champions in 13 male weight classes will earn a spot on the USA Boxing Team traveling to Kurgan, Russia in July 2012 for the Veles Cup.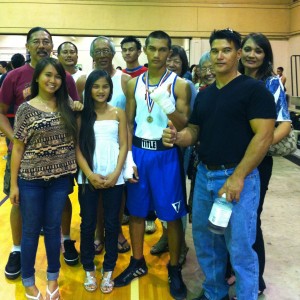 Hunter is a member of the Molokai Southside Boxing Club, established in 2008 by Coach Tomasito Manangan. His brother, Nante Manangan established the Southside Boxing Club in 1996, a non-profit organization instilling hope, goodwill, sportsmanship, and good character; in the fighters they train though fundamentals in the sport of boxing. The club supports its "no drug/no street violence policy" for our youth. Southside's main goal is to have its fighters participate and compete in the U.S. Amateur Boxing competitions, national championships, Golden Gloves, Goodwill Games, USA Championships, Olympics and Jr. Olympics, and earn college scholarships.
Hunter has the opportunity to enter the 2012 Jr. Golden Gloves Tournament in Mesquite, Nevada in July, and the 2012 World Ringside Amateur Boxing Competition in Kansas City, Missouri in August. The Molokai Southside Boxing Club is planning an invitational event in late September featuring our local boxers with opponents from the outer islands. Congratulations to Hunter for all of his accomplishments and mahalo to Coach Tomasito and his family for opening up their home for training.
Amateur Boxing of Hawaii, working under the umbrella of the USA Boxing and Hawaii State Boxing Commission, gives athletes ages 8 years old to adults many opportunities for athletic competition by developing and mentoring young boxers in Hawaii.