MHS Farmers Get Back to Sports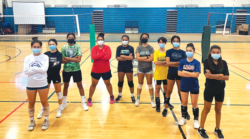 By Catherine Cluett Pactol
After not being able to compete for more than a year and a half because of COVID-19, Molokai High athletes are excited to be back to practicing for a season of competition. It's been a bumpy road of hurdles, false starts and frustrations but "things are going in the right direction."
"I'm very proud of our coaches and our kids doing their best to get out on the fields doing what they need to do," said MHS Athletic Director Lee DeRouin. "I'm really proud of their attitudes. That's what sports teaches us… there's ups and downs and we're getting through it and moving in the right direction."
Last spring, teams could practice but not compete against other Maui Interscholastic League (MIL) teams. This fall, athletes started practices, only to be informed two weeks later about a new Dept. of Education requirement due to the high COVID rates in the state: to play, athletes need to be either vaccinated or approved for a religious or medical exemption. The start of sports was delayed until the end of September to give time to implement the requirement.
Now with two weeks under their belt, DeRouin said it's "back to business as usual except for COVID protocols to mitigate the chance of spreading COVID during practices."
There's a sanitation table at each practice, he said, and team practice locations are arranged in different parts of campus to minimize the interaction of athletes from different teams. Practice times are also staggered so large groups of students won't be arriving or leaving at the same time, and the locker rooms are rearranged to allow for more space. Masks must be worn indoors at all times, including for indoor sports such as volleyball, but regulations allow for the removal of masks outdoors during rigorous physical activity, DeRouin said.
The biggest change is that currently, no spectators are allowed at competitions, but DeRouin said he hopes that may change in the near future.
Five fall sports are underway and have a full schedule of MIL events lined up. That includes eight-man football, boys and girls cross country, girls volleyball, boys and girls air riflery and cheerleading.
DeRouin said so far, the season is going well.
"We're doing the best we can, coaches are helping a lot, and kids really want to play," he said. "They're very respectful and they understand. The bottom line is we're just happy we have the kids out with their teammates again, building relationships, coming together again as Farmers. It's great for me to see the interactions with coaches again."
He said he's already noticed a difference in the feeling on campus with sports resumed.
"It's just the little things in the [sports] seasons — the ups and downs — that build character," reflected DeRouin. "I like seeing that. It helps school moral, school pride — athletics really provide that. Even though we've only been at it a couple weeks, I can already see friendships and bonds kicking off."
Meeting vaccination or exemption requirements for athletics has paid off, but hasn't necessarily been easy. DeRouin said some students got vaccinations, while others opted for exemption, and he didn't want to discuss the numbers.
"They do what they gotta do, and we welcome them back as Farmers," he said. "Here in the Athletic Department, I'm not looking at who's vaccinated and who's not, [it's just] "OK, you just need to do this, let's get you back out on the field and court. We're doing the best to help you.'"
DeRouin said vaccination exemption applications are reviewed by the Civil Rights Compliance Office of the Dept. of Education. He said the turnaround time isn't fast, and some athletes are still pending approval before they can start practice. Once approved, those who receive exemptions are tested free of charge at school Mondays and Thursday mornings, which is required to continue to participate in practices. DeRouin said some students were hesitant to start the exemption process but staff helped them through it.
The fall's MIL schedule kicks off this weekend with the cross country team traveling to Maui and Lady Farmers volleyball hosting Seabury at The Barn.
"Each week is getting better… Things can change rather quickly during this time, sometimes not so good and sometimes good, but I'm hoping it trends to the better," said DeRouin. "There could be some bumps in the road, [for example] we might not be able to play a team because of an outbreak, but we'll work through it."