MHS Farmers to Farm Again
Molokai Farmer without a farm? Not for long.
Molokai High School (MHS) recently celebrated the clearing of farmland adjacent to the school, allowing student to once again bring agricultural learning out of the classroom.
"This year, its like the new era – getting back to the land… and the opportunity to do some agriculture projects in the field," said Principal Stan Hao.
The lot, which sits between MHS and the Ho`olehua Fire Station, was neglected over the last few years and became overgrown.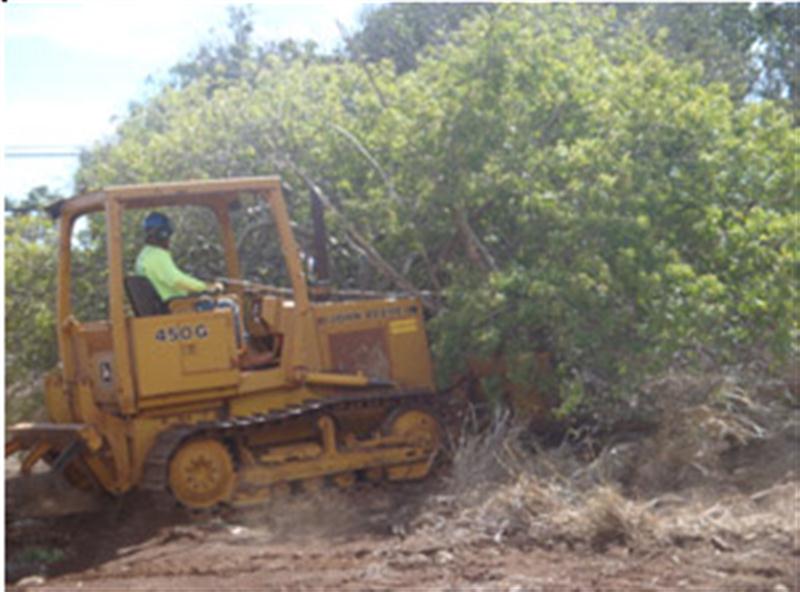 saying, 'Why can't we go out there?'" Wichman said.
"They're ag! Now they have a place to plant," added business teacher Kai Sawyer.

But the students aren't stay-at-home farmers – this year, they took their ag learning on the road. Classes from the Natural Resources Academy visited Kumu Farms, Pu`u O Hoku Ranch and Mycogen Seeds to learn about different types of farming.
Want to help restart the agriculture program? MHS is looking for more companies and individuals to offer community support. Call Kai Sawyer at 567-6950 for more information.
Dear Monsanto Molokai,
Molokai High School would like to express our gratitude for the assistance with the clearing of our agriculture field.
• Coco Augustiro for coordinating everything, kindly working around our school schedules, having patience with us, and ultimately, "Making it all happen!" You made everything seem so simple! MAHALO!
• Dean Place, Gaylan Chang, and Rod Dudoit, for your awesome and exciting operator skills! It has been almost six years since we last had crops in our agriculture field; this task for us alone would have taken at least a year or two, or even three years to complete. The work you folks have done saved us valuable time, tons of money, and work. We enjoyed watching the machines push large trees and overgrown brush to clear our field. MAHALO!
• Deluna's Equipment Services, for your assistance with the hauling of equipment and anything else that was needed, MAHALO!
Your donation to us has excited our students and faculty. Our faculty and students plan to have many things happening in our fields; the ideas range from native plants, kalo, sweet onions, ti-leaf, various flowers, fruit orchard, and a variety of vegetables. We are in the process now of strategizing parcels and putting in our irrigation system.
Again, a huge mahalo to you folks for all that you've done! You have helped to create an environment where students are more eager to learn and produce. Your time, dedication and commitment to us are much appreciated and will not be forgotten.
From all of us at Molokai High School,
Mahalo!