Melva "Tutu" Meyer Naki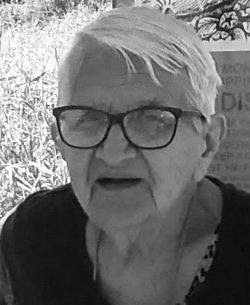 Beloved kupuna Melva "Tutu" Meyer Naki, age 88, of Molokai, Hawaii, passed peacefully in slumber Jan. 5, 2021 on Molokai, Hawaii. She was born Sept. 24, 1932 on Molokai. A 1950 graduate of the Kamehameha Schools, she worked for a number of companies on Molokai and Oahu. She was a woman of family and faith, and will be most remembered as "Tutu" to all the keiki she cared for when living on Oahu.
Melva was preceded in death by her husband Benjamin Naki; children Benjamin Naki Jr., Roxanne French, and James Wailana Naki; and mother Hannah J. Meyer. Melva is survived by her grandchildren Janeen (Winston) Naki-Woodard, Benjamin (Kehaulani) Naki III, Marvin (Pumehana) French, Melva Patty (Theoichy) Wengu, Henry (Chelsea) French, Scott (Bert) French, Starlena Naki-Lima, James (Shaydine) Naki-Lima, Isaac Naki-Lima, Starr Naki-Staudinger; and numerous great-grandchildren, nieces, nephews, cousins and friends.
Catholic services will be held at St. Damien Catholic Church on Molokai on Saturday, March 6, 2021. Due to COVID-19, there are limitations for visitation and attendance at church. Mask and social distances will be required. Call Janeen Naki-Woodard at 708-903-6667 for more information.