Meet the Artists: U'i Kahue-Cabanting
Community Contributed
By Na Heona Molokai
Na Heona Molokai (Artists of Molokai) is a group creating an exhibition titled "No Stop Light: Molokai" for the 3,600 square foot Downtown Art Center in Honolulu, in May 2022. In the coming months, we will introduce each artist.
What is your name and connection to Molokai?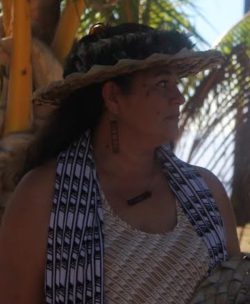 My name Is U'i Kahue-Cabanting. My ohana is now five generations DHHL beneficiaries in Ho'olehua. I am a cultural practitioner/kumu, community activist and political candidate.
Describe your art.
'Ulana Niu is the art of weaving with coconut. Most people equate 'Ulana Niu with woven bowls or a hat and not much else, as it is considered a novelty or a souvenir, even a lost art. There is so much more! When we look to our South Pacific cousins, or those who live in the latitudes where coconut thrives, we find a multitude of examples, decorative and utility in 'Ulana Niu. Some are practiced, but much is forgotten.
What do you do in addition to your art?
I am a cultural practitioner and teach with my partner Mario Siatris regularly on Maui. I am also working on teaching at rural locations such as Hana, Lanai and Waimanalo. I have participated in cultural art programs and learning with children in the Dept. of Education and private institutions too.
Mario and I met 16 years ago, and in 2013 we started a certified plant nursery with an Export Permit. Over the last nine years, we expanded from "caring for your plants" to "using your plants" with a focus on Hawaiian voyaging plants. Mario is a Master Weaver in 'Ulana Niu. In turn Mario has taught me, and together we perpetuate 'Ulana Niu (and other Hawaiian arts) because it is the pono thing to do, and in fact it has become our kuleana. Recently, I started the process of creating a nonprofit based on Molokai. Its mission will be to educate and restore Hawaiian fiber arts and their gathering places. This will help give my efforts "mana" as I fight for access, gathering rights, restoration and the preservation of our beloved and sacred Kapuaiwa. I die a little each time I see that barbed wire fence around our Coconut Grove. This was a gathering place for Maka'ainana and our Ali'i. Its historical and cultural significance is beyond explanation and to not be able to share that with our Keiki, or future generations, to educate and perpetuate a culture that once was… is hewa. (Currently, if you Google Kapuaiwa, it's listed as permanently closed!) We hope that if successful, we will be able to help other practitioners and their endangered gathering places throughout Hawaii nei!
What do you plan to create for the No Stop Light: Molokai Exhibition?
Everything imaginable! Eight-foot flags that could decorate your lu'au tent, five tiered baskets that can carry fresh fruits in your kitchen, extra large cylinders that have been used as 'umeke for Kupuna o iwi, beautiful lei baskets, squared bottom baskets and six different styles of papale. We will also conduct weekend workshops. Classes will consist of Traditional 'Ulana Niu on Saturdays and Contemporary 'Ulana Niu on Sundays. All materials and tools will be provided. All haumana will conclude each class with three wearable or usable items plus na'auao on 'Ulana Niu!