Meet the Artists: Nan Walters
Community Contributed
By Na Heona Molokai
Na Heona Molokai (Artists of Molokai) is a group creating an exhibition titled "No Stop Light: Molokai" for the 3,600 square foot Downtown Art Center in Honolulu, in May 2022. In the coming months, we will introduce each artist.
What is your name and connection to Molokai?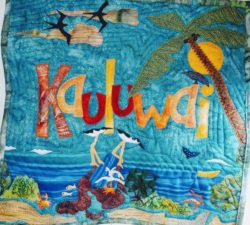 My name is Nan Walters. I came to Molokai and the Yamashita family as a young wife and new mom in 1978. I had my second child here and then ended up as a single mom. Thinking about raising two boys on Molokai versus the mainland, there was no question, so we stayed.
How did you make a living?
My first job on Molokai outside the home was with the startup shrimp farm called Orca Sea Farms. I was the farm administrator for four years. I worked with biologists and computer programmers. It was really fun. By then, my boys were about 8 and 10. I was a single mom on a budget, and there was no place to go if you wanted to get a hamburger with your kids. So I got this great idea. "I'm gonna build a hamburger shop on Molokai!" And against all odds, it happened. There was an old building in Kualapu'u called Yoshi's Sweet Shop. I converted it into the Kualapu'u Cookhouse. It became an amazing place. We were open six and half days a week and full house all the time. That took me to 1996 when I married my second husband. He was a Montana boy here to build the Molokai landfill. We got married and went to Montana. I lived there for 10 years and built a second cookhouse. My restaurant was the Big Spoon in Bigfork, Montana. That marriage didn't work out. I missed my kids, and I missed this island. I moved back to Molokai in 2006. In 2009, I had the opportunity of leasing Mahana Gardens so I spent 10 years turning that into a beautiful, full service plant nursery. Then I retired and moved here to Kalae.
Tell us about your art.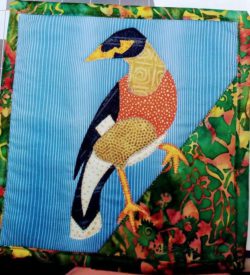 I have been in love with fabrics since I took sewing classes in my freshman year of high school. From then on, I made my own clothes. I always had unique clothes. When I moved here, I developed a line of paniolo cowboy shirts with ginghams, tropical prints, yokes and cuffs. I did a lot of weddings. I collected a lot of fabrics. I still have fabrics from forty years ago. But with the cookhouse and the gardens, I had no time to do what I really wanted to do, which was art with fabrics. So now I have the place, the fabric and the perfect opportunity to do what I want to do. No traditional anything. Just my artwork in fabric. I am just really humbled about it. I love the process.
What do you plan to make for the Exhibition?
I have some neat ideas. My son Todd is involved with the monk seals and my heart is involved too. So I want to do a project with monk seals. I am interested in making a lot of my little things that represent Molokai. I find my inspiration everywhere I look on Molokai.