Meet the Artists: Kananikalā Bishaw-Juario
Community Contributed
By Na Heona Molokai
Na Heona Molokai (Artists of Molokai) is a group creating an exhibition titled "No Stop Light: Molokai" for the 3,600 square foot Downtown Art Center in Honolulu, in May 2022. In the coming months, we will introduce each artist.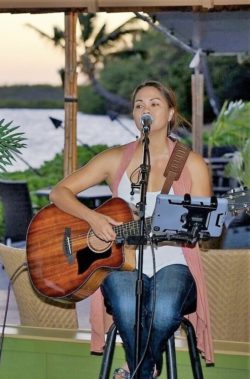 What is your name?
My name is Kananikalā S. Bishaw-Juario and I'm called "Kalā."
What is your art form?
I play different genres of music using my guitar, and I sing. I play music once a week with Raymond Hiro at Hiroʻs Ohana Grill.
How did you get started?
My grandparents Alexander and Anna Bishaw would play ukulele and sing together. They would visit the long-term care patients at the hospital once a week and play music for them. Seeing how happy music made people, even when they werenʻt in the best situations, made me want to do the same. My dad bought me an ukulele and taught me to play at the age of 7.
What inspires you?
When I relate to a record because of the lyrics and melody and can think of a situation a certain song got me through, or made me feel happy about, that is like therapy for me. Singing helps me let out all the things I donʻt always discuss with others. When I notice that a song touches someone listening, it makes me feel happy that it did the same for them. Music is a universal language, and singing helps me get through so much. I donʻt even think of it as performing, but as my release.
What is your connection to Molokai?
I grew up on Molokai and always loved doing things in my community. My parents Kaleo and Suzanne were involved in a lot of events that evolved around music, hula and working with children in the elementary schools. Helping them and volunteering my time at school with my children now, like my grandparents and parents did, assures that what they taught me will continue to be taught to the next generation.
What do you do besides your art?
I enjoy spending time with my husband Ikaika and three children Nathan, Alexis and Averie.
I recently started working at Molokai Physical Therapy and Rehabilitation LLC with Dr. Genevieve Correa, and together we are building Molokai Malama Wellness which includes exercise classes, and we just incorporated an ukulele class taught by my dad!
What are you planning for the exhibition?
I plan to support my husband who is showcasing his fishing lures he makes by hand. I was honored to be asked to sing at the art exhibition on Friday, May 27. Hope to see you there!