Meet the Artists: Kala'e Tangonan
Community Contributed
By Na Heona Molokai
Na Heona Molokai (Artists of Molokai) is a group creating an exhibition titled "No Stop Light: Molokai" for the 3,600 square foot Downtown Art Center in Honolulu, in May 2022. In the coming months, we will introduce each artist.
What is your name, and what is your art form?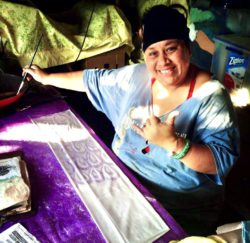 I am Kala'e Tangonan, and I do multi-media.
What is your connection to Molokai?
I was born and raised on Molokai. I'm never going to live anywhere else. This is my home.
What do you do besides make art?
I have a lot of kids so we are involved in a lot of things, community events, keiki fairs and Ka Hula Piko. I do face painting. I do hair and makeup for prom. We plan weddings, decorate for parties and make leis for funerals.
How did you become an artist?
When I was little, I found my mom's poster paints. I found a little composition book, and I painted whatever I saw. My mom was like, "You like painting?" After that, she fostered that love of art. We joined a hula halau, and I learned how to silk screen from her. We silk screened our own hula pa'us, pareos and shirts. I learned how to create my own designs. In high school, there was only Howard Selnick who was our art teacher. I took photography, painting, drawing; everything they had. I got my AA after I graduated on Molokai and my college counselor asked me what now. I said, "I want to get my BA in art," and she said, "Art ain't coming to Molokai." Her name was Kim Helm. She helped me register for UH Hilo. I stayed in Hilo for eight years, got my BA in art, and then moved home, had more kids and started an art business.
You said you were inspired by your mother? Is she an artist?
Yes, she does everything. She used to draw for halau and paint things. My mom had nine kids and on the ceiling of our house she painted the ABCs, an apple, and a worm. I asked her why we had ABCs on the ceiling, and she said, "Because when the babies are laying down for diaper change, it keeps them busy." We started muraling together when I got married in 2001. I wanted to get married in Pala'au State Park. We were in the park but there was graffiti on the walls. One of the kids said, "What is F…?" and I was like, "No, no!" So we scored some paint and painted the walls, the whole pavilion and did a red hibiscus motif for my wedding. Later my aunt Sarah Strickland took me under her wing. She wanted me to grasp the concept of batik. I said "I no like batik, Aunty. I just want to paint." Then one day I said, "What you doing?" and she said, "You not interested," so I learned and boom, after that I loved batik.
What do you plan to make for the gallery show?
I will make some batik pieces and I want to make some hanging interactive mobile pieces with feathers. My mom owns 20 peacocks so we have feathers everywhere.