Meet the Artists: Kahale Naehu-Ramos
Community Contributed
By Na Heona Molokai
Na Heona Molokai (Artists of Molokai) is a group creating an exhibition titled "No Stop Light: Molokai" for the 3,600 square foot Downtown Art Center in Honolulu, in May 2022. In the coming months, we will introduce each artist.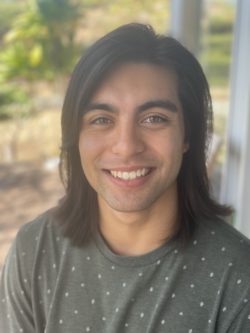 What is your name and connection to Molokai?
I am Kahale Naehu-Ramos. I am from Lahaina and moved here when I was seven years old with my mom and sister. My stepdad Hano is from the east end of Molokai. I went to school and high school here, and now I'm done with college in California, so I'm back.
What are you doing?
I work for a company called Ka Hale Hoaka, founded by my mom, Maile. It's an online school of learning. We supplement Hawaiian culture and language in the schools, for example, Kualapuʻu School uses our curriculum. We also do home schooling classes for adults and kids. I am the Media Production Manager. I do filming, video, and editing. I also help with curriculum because I have a background in Hawaiian Immersion. From kindergarten until sixth grade, I was in Hawaiian Immersion, and I have stayed close to 'Olelo Hawaii. I am a second eye when my mom creates curriculum.
What are your plans for your future?
I got my degree in music, and I would like to do my own thing on the side but for now I am dedicated to our company. I believe in its mission and goals. There are many things that interest me involving media production, music, and music production.
How did you get started as a musician?
It started in Hawaiian Immersion because mele is important to Hawaiian learning. We would sing a lot. In fifth grade, we had a ukulele class. I was the worst in the class. But I tried it again in sixth grade and ever since then I've been playing music. When I was a senior in high school, I decided to study music, but I didn't want to go to a conservatory. I went to Pomona College, a liberal arts school in Southern California and kept taking music classes. I studied classical guitar and during my senior year, I did my thesis on Hawaiian Slack key guitar. It was my own research. I was in a rock band during college, so I've played all kinds of music. I also was the audio engineer for a college produced musical. I've recently been doing background music for our company, and I've also done a few commercials. If anyone needs custom tracks or a recording engineer, hit me up! I didn't really start singing and playing until college. I started recording by doing a lot of amateur recordings of me and my friends. Recently I've been doing professional recordings of music for clients and mixed and recorded for my parents, who are also musicians.
Who inspires you musically?
Recently, Gabby Pahinui has been a big influence on me as well as other slack key players like Jeff Peterson. I love Cecilio and Kapono as well as Jack Johnson. I also love the Beatles. I like all kinds of music and I find great inspiration from film and video game soundtracks.
What are you planning for the art exhibition?
I will do a set of guitar and voice similar to those inspirations I mentioned and a few covers, maybe a couple of originals.