Meet the Artists: Ikaika Bishaw-Juario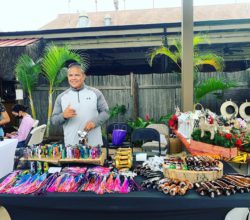 Community Contributed
By Na Heona Molokai
Na Heona Molokai (Artists of Molokai) is a group creating an exhibition titled "No Stop Light: Molokai" for the 3,600 square foot Downtown Art Center in Honolulu, in May 2022. In the coming months, we will introduce each artist.
What is your name?
My name is Kyle "Ikaika" Bishaw-Juario. I was born and raised on Molokai. I am the owner of KBJ Lures. I mainly specialize in making Ulua (GT) popping lures and Deep SeaTrolling Lures. Each lure is handcrafted.
What is your art form?
I have been an artist my entire life. Art has been something I enjoyed (ex. painting and drawing) growing up. I got in trouble at school a lot for drawing and not doing my class work. Later in life, I learned air brush work and started doing murals in the community and banners for graduation and birthday parties. Making fishing lures is the newest form of art that I am exploring.
How did you get started?
My journey into handcrafted lures started with covid. I was locked down for ten (10) days and needed something to do to pass the time. I thought why not turn a negative into a positive. The government gave us some free money, so I bought the tools and materials that I would need and started making lures.
Why do you make what you make?
Lure making is a combination of my passions for fishing and art, the two things I got in trouble a lot for doing excessively during my childhood.
And what do you do now in addition to your art?
I've been married to my beautiful wife, Kananikala Bishaw-Juario for 20 years, and we have three children, Nathan, Alexis and Averie.
I've been a member of the Maui Police Department for 18 years and currently serve as the detective for Molokai. Being a police officer gives me an opportunity to give back to my community.
I use lure making to decompress from the stresses of police work. It allows me to focus on the things I enjoy.
How do you develop your art skills?
A lot of the lure design comes from ideas of my fishing companions, fishermen of the past, and from my own experience. These people have shared with me what works for them and what they believe should be improved. I put those ideas into motion.
Why do you make this type of art?
I like the idea of "functional art." Something that can be admired for its beauty and yet it can be used to put food on the table.