Meet the Artists: Dan Bennett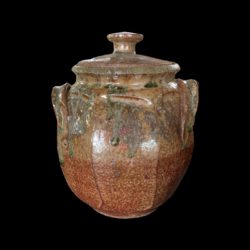 Community Contributed
By Na Heona Molokai
Na Heona Molokai (Artists of Molokai) is a group creating an exhibition titled "No Stop Light: Molokai" for the 3,600 square foot Downtown Art Center in Honolulu, in May 2022. In the coming months, we will introduce each artist.
What is your name?
My name is Dan Bennett. I am the owner of Bennett Pottery in Kalae. I am a co-founder of Molokai Arts Center and serve on its Board of Directors and teach pottery classes.
Why do you make what you make?
I make things that people can use. There's a saying in ceramics, "It's either mud or landfill." In between there, I hope that there's things that people can use. So I do all kinds of stuff: mugs, plates, bowls, vases, planters, garlic jars, goblets, storage jars, serving platters, salt jars, tea pots and cups, pickling crocks, etc. If there's not a use for it, I rarely make it. I try to keep it reasonable enough in price so that people on Molokai can afford it. To me, that's the role of a potter. That's what I consider myself to be.
How long have you been in Molokai?
I've lived in Molokai since 1971, give or take a few years. You can do the math.
What did you do before you became a potter?
I taught high school and college mathematics at Molokai High School and at the community college here on Molokai, and all that time I was making pots. But I had to support my family so that's how I got to Molokai, because I was a school teacher.
What attracted you to Molokai?
I grew up in a small agricultural community that I saw develop into housing tracts. Molokai appealed to me because it's a small agricultural community, and I love to surf and I love the ocean, so to me it was a perfect fit.
Do you have any sports, hobbies or community service activities?
I used to surf quite a bit. I helped support the Molokai surf community by judging in keiki surf meets, advising the MHS surf club and helping to run and coach their meets on and off island, as well as in community surf meets. I still support the MHS Athletic program events by volunteering to announce the home volleyball and basketball games. I was on the Molokai Community Plan Committee twice and served as chair the second time. I also was the advisor for the MHS environmental club (MEPO), have volunteered at the Molokai Nature Conservancy as a docent and member of the Earth Day planning committee.
You've taught a lot of people to make pottery?
I just got them started. The rest is all them. That's my influence. Once I show them the basics, they take off.
How do you define success as an artist?
I find success when people come and tell me, "I use your thing every day." Whether it's a coffee cup or a goblet or anything that they have and they use it on a consistent basis — to me that's success. I love having people tell me, "I've had this coffee cup for 30 years and I use it every day." Yeah! That to me is success.