Meet the Artists: Carol Rocha
Community Contributed
By Na Heona Molokai
Na Heona Molokai (Artists of Molokai) is a group creating an exhibition titled "No Stop Light: Molokai" for the 3,600 square foot Downtown Art Center in Honolulu, in May 2022. In the coming months, we will introduce each artist.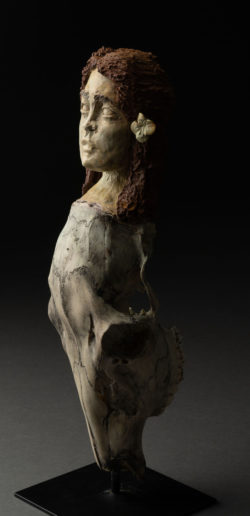 What is your name and where are you from?
My name is Carol Rocha. I grew up in Northern California. My family is from the Azores, Portugal.
What is your art form?
I am a sculptor. I owned a wood shop for years in California that produced one of a kind reclaimed wood furniture. Using wood for sculpting and creating art has been most of my professional art experience. I'm new to sculpting with clay.
How did you get started?
I've been interested in all things artistic and creative my whole life. I worked in radio for more than 20 years and that is where I learned the art of marketing and promotions. After starting a family, I didn't want to go back to the corporate world. I started my wood furniture business and was able to successfully market the line to dealers, making me a working artist. Most of my clay sculpting experience started here on Molokai. Sculpting with clay is a blast. I love how forgiving it is compared to wood. Or as they say, "Clay forgives, but it doesn't forget."
Why do you make what you make?
I'm still wondering about that myself! When I begin working with a chunk of clay I get these visions of faces with very specific features. It's an experience to create a face. It would be easy to make the perfect face with "filtered" like features. It's what we see in the media every day. The faces I make are full of beautiful imperfections like real human beings.
And what do you do now in addition to your art?
My husband is the wood shop teacher at the high school. I homeschool our 2 daughters during the day. We do hands-on nature and art-based learning. I love to cook and farm and work on projects at the house.
How do you develop your art skills?
I work on sculptures a few times a week. I like to experiment with mixed media too, using materials that I find here on Molokai. I recently had a sculpture selected by the juror for the Hawaiian Craftsmen Exhibition called "Deer Friend." I used the skull of a Molokai doe for the body.
Why do you make this type of art?
I like sculptures with some degree of human form. There is something about the human element that is so relatable as a viewer. I feel connections to the faces I make like I have known them before. I hope that when people see my sculptures that they feel connected to them and find a similarity to someone that they know too.