Meet the Artists: Arabella Ark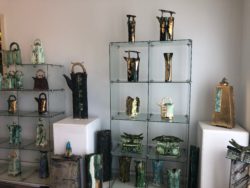 Community Contributed
By Na Heona Molokai
Na Heona Molokai (Artists of Molokai) is a group creating an exhibition titled "No Stop Light: Molokai" for the 3,600 square foot Downtown Art Center in Honolulu, in May 2022. In the coming months, we will introduce each artist.
What is your name and your art form?
My name is Arabella Ark, and I am a Ceramicist. Ceramics entered my life through the backdoor after I moved to Hawai'i. Prior to that move, I had been trained, schooled, and worked in the theatre: as an actress and director. I earned a master's degree in dramatic art at University of California at Berkeley, acted with the Greek National Theatre and San Francisco's American Conservatory Theatre, produced numerous plays in California, France and Hawaii, and wrote drama and art criticism. Due to terrorism in the 1970s, I left Paris where I had founded and directed Le Theatre Experimental Americain.
Finding myself in Waianae, I directed a dinner theatre company at the Makaha Sheraton where we put on musicals and melodramas with hula performances at intermission. When I had my second child, rehearsals and night performances were out of the question. Clay seemed a simple medium to play with at home while busy mothering, although I knew nothing about either clay or mothering at the time! That was almost 50 years ago.
My signature works are large-scale, hand-built, architectural ceramic forms influenced by ancient ruins and by the Japanese tea ceremony. I lend my pieces a feeling of mystery and antiquity by firing in the raku tradition and by additions of copper patinas and gold leaf. I create temples, teapots and dreams…
Can you speak about your career highlights?
As a Biennial artist in 1995 for the Contemporary Museum in Honolulu, I received the 1995 Artists of Hawaii Alfred Preis Memorial Award for achievement in the arts. I was the invited artist at the Honolulu Museum for the Artists of Hawaii show. The State Foundation on Culture and the Arts selected my work for both the 30-year Retrospective 1967-1997 and the 20-year Retrospective 1967-1987 exhibitions. I taught community college ceramics and both children and adult classes at the Honolulu Academy of Arts for over 14 years. Rufford Ceramic Centre in England offered me two residencies to explore kiln building and glaze making. I have been an active owner of co-operative galleries on the islands Maui and Oahu in addition to selling my work in galleries around the world.
As the recipient of many awards, I find my vessels in public, private and museum collections from China and Japan, to Australia, the United States and Europe. Referring to the acquisition of one of my large temples, Elizabeth Broun, Director, NMAA, Smithsonian Institution, wrote, "…The work is a wonderful enhancement to the National Museum of American Art's holdings in clay."
What is your connection to Molokai?
I adore my family. My daughter and grandchildren are in the Helm ohana. On Molokai, I maintain a studio/showroom, and I write novels and children's stories. My studio is open by appointment at 2376 Kamehameha V Hwy. Kaunakakai, HI 96748, 808-553-3099. I believe I am happier than I have ever been, absorbing the magic of dawn and dusk colors here at the beach in Kawela.