Meet the Artists: Anna Fuernsteiner
Community Contributed
By Na Heona Molokai
Na Heona Molokai (Artists of Molokai) is a group creating an exhibition titled "No Stop Light: Molokai" for the 3,600 square foot Downtown Art Center in Honolulu, in May 2022. In the coming months, we will introduce each artist.
What is your name and what is your art form?
I'm Anna Fuernsteiner, and I paint with oil and acrylics on canvas.
What is your connection to Molokai?
I was born in Vienna, Austria where I lived with my grandmother and moved to England with my mother and stepfather. When I married, I moved to the Pacific Northwest.
18 years ago, I settled in Molokai permanently. I had been coming to Hawaii on vacation, taking photos which inspired me to start painting again. Molokai spoke to me, and it came through my canvas to paintings. I felt the colors, the culture, the Hawaiian spirit, the history, the people. I loved Hawaiian traditions. My experiences were swimming around in my head, and I was compelled to put them in my art. Traditions inspire me because I come from a country that had traditions. I love the ocean, the flowers, the scenery. I'll never be able to complete all the paintings and everything I feel that Molokai has inspired in me.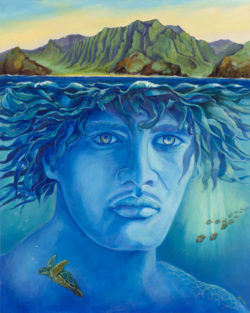 What will you be showing for the gallery exhibition?
My art, every painting will represent Molokai. My life, people, places, and events. Sometimes I will notice a scene when I am paddling, hiking, or biking. I will see something or hear about something or take a picture and feel, "I want to paint that."
What do you do when you are not painting?
I work at the gallery in Kaunakakai a couple days of week. I love meeting visitors from all over the world and the residents of Molokai. I always have something to do in my yard. I dabble in jewelry making. I paddle, visit with friends, play cards, have potlucks, and listen to music. It's a simple life but full.
What did you do before you came to Hawaii?
I was a dental hygienist in Oregon, which allowed me to have time for camping, skiing, running, hiking, and climbing mountains. I biked across the country from Oregon to Virginia. I had the traveling bug. But I always wanted to draw and paint. As a child I was constantly drawing. My Grandmother would take me to the museums in Vienna. Even when told to shy away from art, or " you will become a starving artist" I persisted. I took art classes and devoured art books. I loved the great outdoors so it was suggested I go to dental hygienist school because you can earn enough to work three days a week and have the rest of your time off. After my visits to Molokai, I would go back to Oregon, turn up the heat, put on flip flops, put on some IZ music, and paint all day. Finally, I had an opportunity to move, and expected to be a dental hygienist in Molokai but my Oregon license was not transferable. Instead, I turned to my art and was fortunate to be able to support myself. It was the career I always wanted. I'm lucky to do what I love.