Meet our Miniature Donkeys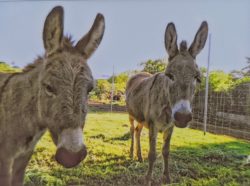 Seed of Love News Release
Come and meet Kaunakakai's cutest new attraction hosted by the locally based nonprofit Seed of Love (SoL). Join us for an open house on the farm in Kaunakakai this Sunday, March 20.
SoL's mission is to work with the land and community to create a platform for learning, gardening and animal care including rescue and rehabilitation. SoL has partnered with the Yamashita family farm located along the Kalokoeli Fishpond in Kaunakakai. The farm is now host to SoL's main attraction Maia and Angelo, a pair of miniature rescue donkeys that made their way to Molokai via a rescue program on Oahu. The animals are part of a budding farm that aims to host programs that provide healing and educational opportunities to our island's youth and community.
"There is a new Molokai generation stepping up to the plate to expand on what SoL already has been doing," said SoL's founder, Ketty Mobed, who is excited to open up this new chapter for SoL. Since 2017, SoL — led by Mobed's daughter Bahar and her husband Jayson — has been working to empower the Molokai community through education in agricultural and gardening skills on Uncle Moke Kim's education aina Hana Kupono in Hoʻolehua. Mobed also started SoL Wahine in a little store at Holomua Junction, where she taught basic sewing techniques. After the program ended during COVID, Mobed said she had been searching for opportunities to create a new platform that could host the nonprofit's vision. That's when Mobed started engaging with Todd Yamashita and found there was alignment of vision and values, according to Mobed.
"I admire and love Molokai's community values. I am grateful for the chance to reflect these values of stewardship, and communion back into the Molokai community and be at service on the SoL farm," said Cara Fitzpatrick, Yamashita's partner and manager on the SoL farm. Fitzpatrick, who hails from Colorado, has spent the past two years on Molokai tutoring at Kualapu'u School and serving two consecutive farming internships with Sust'ainable Molokai.
The Yamashita ohana and Mobed would like to invite the community to celebrate the turn of the season and invite blessings to the new farm on this Spring Equinox. The open house is located at the Yamashita family farm, makai side of the Fourth Heights (Kahinani Place). The event begins at 2 p.m., blessing at 2:30 followed by entertainment and light refreshments. Bring your water bottle and carpool or walk if it is convenient.
The SoL Community Farm will soon be open to the public on a limited schedule and is looking for volunteers who are interested in getting involved on a regular basis. At the event, SoL will also be announcing the addition of two new homegrown board members, Kalaʻe Tangonan-Ritte and Yamashita, who will help to serve SoL's Molokai-centric mission.